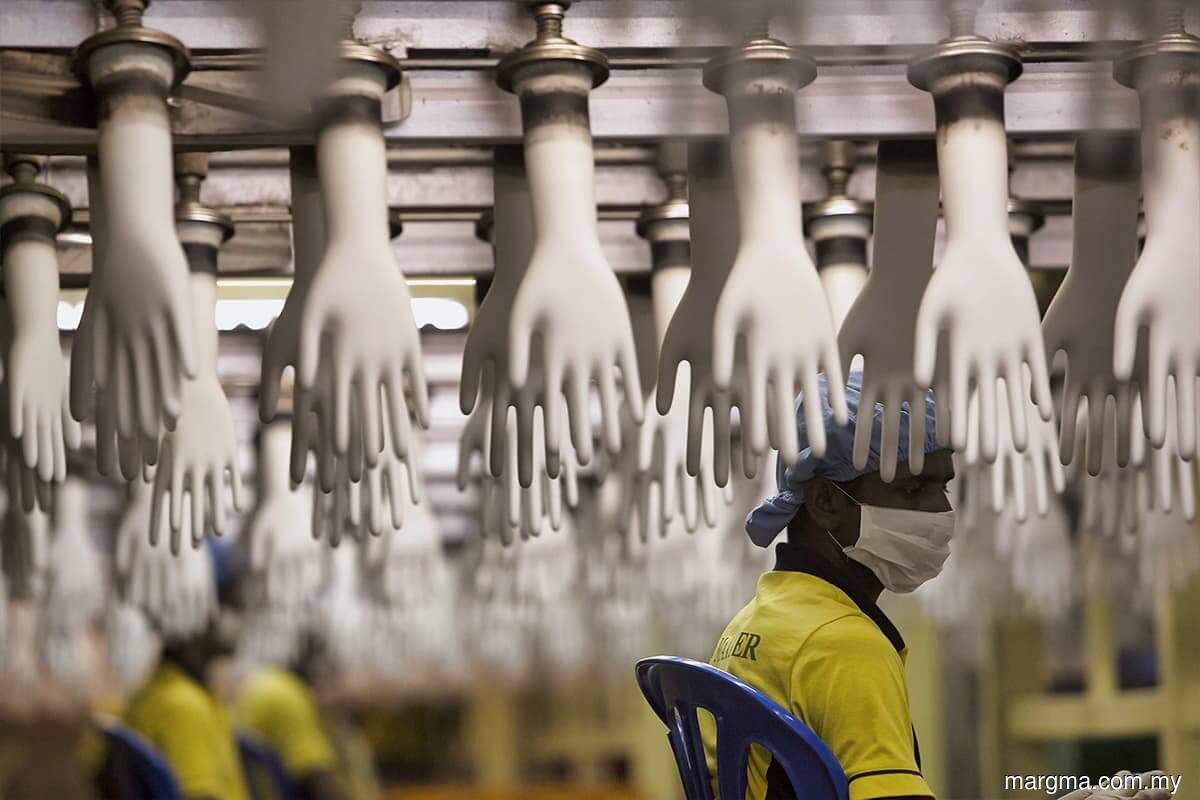 KUALA LUMPUR (March 15): Global supply of rubber gloves is projected to reach 420 billion pieces this year, some 80 billion pieces short of the projected demand of 500 billion pieces, according to  the Malaysian Rubber Glove Manufacturers Association (MARGMA).
There was a shortfall of 100 billion pieces of rubber gloves last year, when global demand reached 460 billion but supply was only at 360 billion. In 2019, the shortfall was 40 billion pieces, when global demand was 340 billion pieces, while supply reached 300 billion pieces. In 2018, global demand was at 280 billion pieces, while supply stood at 268 billion pieces.
Out of the estimated global supply of rubber gloves this year, 67% of that will come from Malaysia, MARGMA told a virtual briefing on the industry's outlook today. Thailand is expected to provide 18% of the total, followed by 10% from China and 3% from Indonesia, it said.
Glove demand is expected to be robust until the second quarter of 2022 (2Q22) as new norms due to Covid-19 are expected to stay and sustain current elevated demand, said MARGMA president Dr Supramaniam Shanmugam.
"Post pandemic, we think, demand for gloves will still grow more than pre-Covid-19 rates, with an estimated annual growth of between 12% and 15%, compared with an annual growth of 8% to 10% before Covid-19. Overall, the situation looks robust for the glove industry," said Supramaniam.
During the pandemic, glove demand surged to between 25% and 35%, he said.
Post pandemic, demand for gloves will continue to rise due to enhanced health awareness, increased use of gloves in industries such as the food and beverage (F&B) and aviation industries, and an ageing population.
The world will continue to face a glove shortage until 2023, said former MARGMA president Denis Low Jau Foo, given that manufacturers are currently still in an "oversold" position.
He also said average selling prices (ASPs) of gloves will not see a sharp decline because the majority of glove producers today, which have big government contracts, are facing difficulty in fulfilling the demand.
Meanwhile, the rubber glove industry is expected to invest up to RM3 billion annually for capacity expansion, research and development (R&D) and automation to reduce reliance on foreign workers, said Supramaniam.
While productivity in glove manufacturing has improved over the years — from needing 9.7 workers to produce one million gloves back in 2008 to needing 1.7 workers to produce the same in 2020 — the industry aims to further improve this ratio to 1.5 workers for one million gloves by 2024, added Supramaniam.
Read also:
Malaysia's rubber glove revenue to grow 8% to RM38b this year, says MARGMA