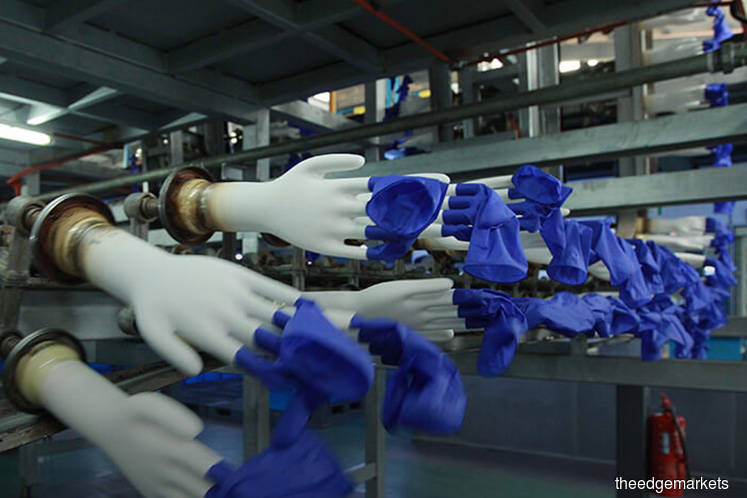 KUALA LUMPUR (Aug 23): Malaysia rubber glove players aim to grow their market share of gloves globally to about 68% over the next two years, according to the Malaysian Rubber Glove Manufacturers Association (MARGMA).
During a media conference on the state of the glove industry and the way forward, MARGMA vice president Dr S. Supramaniam shared that global demand for the industry remains robust and that Malaysian glove players would want to grow their market share from about 63% to 68% over the next two years.
Supramaniam noted that by end of this year, Malaysia is expected to supply about 63%, or 168.8 billion, of the global demand for gloves.
The annual growth rate for the glove industry is expected to be at about 15%, he added.
MARGMA's president Denis Low Jau Foo also agreed, saying that the rubber glove industry has grown tremendously throughout the past two decades and continues to display resilient growth.
"Today, the Malaysian rubber glove industry exports to over 195 countries worldwide. The global demand for rubber gloves continues to rise and is expected to increase from 232.2 billion gloves in 2017 to 268.0 billion gloves in 2018. Malaysia is expected to supply 63% or 168.8 billion gloves of the global demand. This will translate into the projected revenue of RM18.8 billion for Malaysia in 2018," Low said.
"In 2017, rubber gloves make up 73.2% of all rubber goods exports for Malaysia. From January to June 2018, the export value for the local rubber glove industry was at RM8.47 billion, up 6.57% from RM7.95 billion in the same period last year," he said.
MARGMA also announced that it will organise its 9th International Rubber Glove Conference and Exhibition 2018 (9th IRGCE 2018), which will take place at the Kuala Lumpur Convention Centre (KLCC) from Sept 4 to Sept 6, 2018.
Low said that MARGMA will see the number of exhibition booths showcasing the latest in product development and innovation rise to 514 booths from 272 in 2016 and that over 10,000 trade visitors are expected.