This article first appeared in The Edge Malaysia Weekly, on April 15, 2019 - April 21, 2019.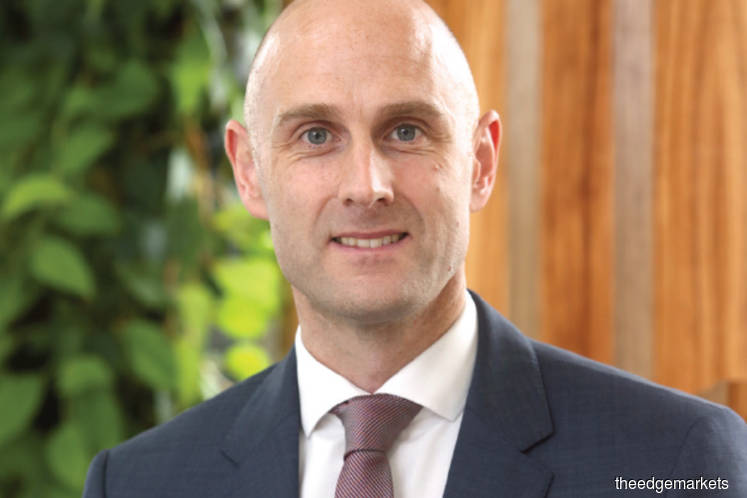 Illegal cigarette sales have also caused the country to lose up to RM5 billion in uncollected tax revenues. Photo by Sam Fong/The Edge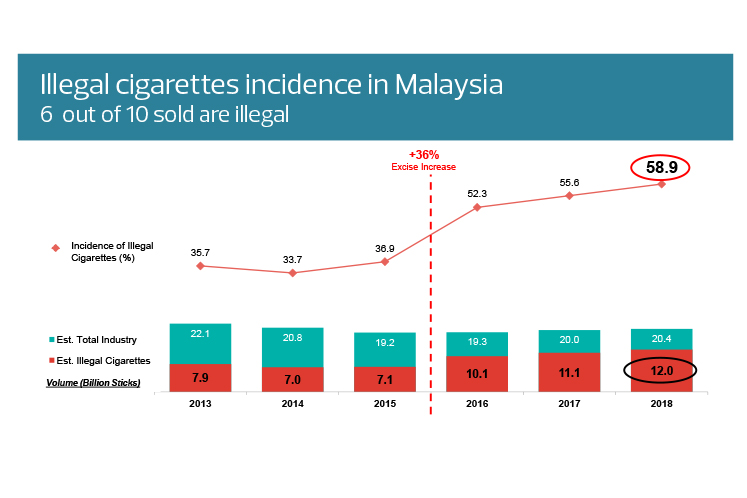 Source: JTI Malaysia
THE rising number of adult tobacco users switching or downtrading to the cheapest-priced legal options continues to erode the profit margin of traditional tobacco companies. Unfortunately, there is no end in sight.
"At some point, everyone who is looking to trade down (to cheaper brands) would have already done so, but I don't think we have hit that point yet," JT International Bhd (JTI Malaysia) managing director Cormac O' Rourke tells The Edge in his first media interview since taking over the helm at JTI Malaysia on July 1 last year.
Against this backdrop, JTI Malaysia, whose key brands are Mevius, Winston and LD, sees continued margin erosion this year.
"As more (tobacco companies) become active in the value-for-money (VFM) space offering credible alternatives to adult smokers, people will continue to switch. So, it's too soon to say when we [will] see the dynamics changing.
"But a big factor (to help stem the erosion in margins) would be how good a job the government can do in restoring its revenue lost due to the illicit tobacco trade. This in turn will improve the outlook for the tobacco industry," says the 37-year-old Irish man.
Falling disposable income is the primary reason smokers are switching from premium cigarettes that retail at RM17.40 per pack of 20 sticks to VFM brands that sell for RM11.90 per pack, he observes.
Still, that is not too bad compared with losing sales to illegal tobacco traders who openly peddle their wares at between RM3.50 and RM7 per pack — far below the minimum price of RM10 per pack set by the government.
"Offering adult smokers a VFM proposition is important to reduce incidences of them further downtrading to illegal tobacco products. This is despite the fact that the gap between the selling price point of legal cigarettes and that of illegal cigarettes is huge," says O' Rourke.
He notes that according to the 2018 Illicit Cigarette Study, illegal tobacco products accounted for a humongous 58.9% of total cigarettes sold last year, an increase of 3.3% over 2017. This cements Malaysia's dubious position as No 1 globally in illegal cigarette sales.
"Illegal cigarette sales have also caused the country to lose up to RM5 billion in uncollected tax revenues," adds O'Rourke.
Filings with the Companies Commission of Malaysia (SSM) show that JTI Malaysia's earnings tumbled for three straight years from financial year ended Dec 31, 2015 (FY2015), following three consecutive years of excise tax increases. The last one, in November 2015, was by a whopping 36%.
O' Rourke says the tax increases have put further pressure on the group's legal cigarette sales volume, particularly in the premium and sub-premium segments.
JTI Malaysia reported a 43.5% year-on-year decline in earnings for FY2017 to RM57.83 million. Revenue was down 3.8% y-o-y to RM1.25 billion. It has yet to file its financial statements for FY2018.
Although O' Rourke declined to reveal JTI Malaysia's financial performance for FY2018 as it is a private company, he says it saw a slight gain of "less than 1%" in cigarette sales volume. The increase was nevertheless impressive as the group outperformed the broader industry's 2% sales volume decline.
"Our volume growth last year was driven primarily by our VFM brand LD. We expect this trend to continue as Malaysia is the 4th least affordable market for cigarette consumption compared to markets that Japan Tobacco International is in, behind Tanzania, Sudan and Jordan," he says.
JTI Malaysia's market share grew to 23.2% last year, making it the second largest tobacco company in the country after British American Tobacco (Malaysia) Bhd (BAT Malaysia), the runaway leader with a 56.3% stake.
Going forward, O' Rourke expects earnings to stabilise over the next three years through volume restoration in the tobacco market.
"Our priority is to ensure that we have volume restored to the legitimate tobacco industry in order to grow our business. We remain competitive as an organisation, and we will ensure that we offer products to existing adult smokers to grow our share of the market here.
"Today, we are only playing in 40% of the tobacco market and so we hope to regain some volume lost to the illicit tobacco trade. We hope that the government will also double its efforts to crack down on illegal cigarette sales," he says.
As such, the stability in JTI Malaysia's earnings will largely depend on the government's efforts to clamp down on illicit tobacco products.
O' Rourke is also quick to point out that although the restoration of volume from the illegal tobacco market will help its bottom line, it will not be enough for JTI Malaysia to achieve its performance prior to FY2015. That is because VFM brands are not able to generate the kind of margins that premium brands command.
Disharmony between MoF and MoH in addressing tobacco use
O' Rourke says there is currently a lack of consistency between the finance (MoF) and health (MoH) ministries when it comes to drafting and enforcing tobacco laws.
Despite the commitment made last year by Finance Minister Lim Guan Eng in his Budget 2019 speech to recoup RM1 billion of the RM5 billion in lost tax revenues by addressing illegal cigarette sales, O' Rourke is of the view that more needs to be done by the MoF and the Malaysian Customs Department.
On April 3, he had proposed that a three-year moratorium on excise tax increases be imposed to prevent further widening of the price gap between legal and illegal cigarettes, as well as to stop more smokers from switching to illegal cigarettes.
He also called for a ban on the transshipment of cigarettes at entry points into Malaysia, arguing that there should only be a single point of entry for any importation of cigarettes for better monitoring.
Moreover, O'Rourke suggested the establishment of an independent body comprising  relevant government agencies such as the ministries of finance and health, and industry representatives to ensure a comprehensive approach to tackling the persistent and long-standing problem.
And as MoH prepares to draw up legislation to manage the use of reduced-risk products (RRPs) such as electronic cigarettes or vapes, O' Rourke urged public consultation with industry representatives, particularly the big three — JTI Malaysia, BAT Malaysia and Philip Morris (Malaysia) Sdn Bhd.
"Currently, any move by the MoH to introduce further regulatory measures on the legal tobacco industry will only serve to exacerbate the (illicit trade) problem. Thus, enforcement of existing regulations should be its primary focus given that 60% of all cigarettes consumed by adult smokers in Malaysia today comply with no regulation in force," he stresses.
O'Rourke also points out that tobacco is currently regulated under the Control of Tobacco Product Regulations 2004 (CTPR) while nicotine not derived from tobacco is regulated under the Poisons Act 1952, which is far more restrictive.
"The CTPR currently defines cigarette as ... 'any product which consists wholly or partly of cut, shredded or manufactured tobacco, and any tobacco derivative or substitute, rolled up in one or more wrappers made of paper, and which is capable of being immediately used for smoking'.
"But for RRPs such as heat-not-burn tobacco products, there is currently no provision on how these products are to be regulated. This has brought about confusion and, indeed, an inconsistent application of the current CTPR," he explains.
O'Rourke says JTI Malaysia believes there is a place for RRPs for adult consumers who wish to stop smoking. "We continue to explore that avenue but only after we have greater clarity on the regulatory framework."