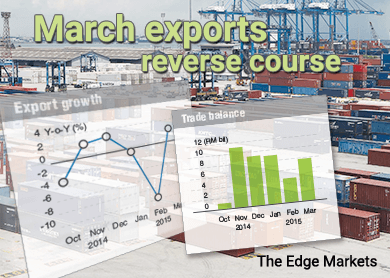 KUALA LUMPUR: Exports for March rose 2.3% to RM66.5 billion from a year earlier, arresting the last two months of decline. This was driven by sales of electrical and electronic goods (E&E) and timber-based products.
January exports had fallen by 0.6% year-on-year (y-o-y), while February exports contracted by 9.7% y-o-y. On a month-on-month (m-o-m) basis, the country's March exports grew 6.7% against February.
According to a Statistics Department's statement yesterday, higher E&E and timber-based product sales had mitigated the decline in sales of other commodities. These include oil and gas products, besides palm oil and rubber.
The country's imports, meanwhile, increased 5.8% to RM58.6 billion in March from a year earlier, helped by higher purchases of intermediate, capital and consumption goods.
The export and import numbers led to an increase in total trade and a trade surplus. Total trade for March increased 3.9% to RM125.1 billion from a year earlier. A trade surplus of RM7.8 billion was recorded, a drop of 17.9% y-o-y but a gain of 71.7% m-o-m.
AllianceDBS Research said the trade performance for March came in above expectations.
"In particular, export growth came in higher than the Bloom-berg median forecast of a 5% contraction and import growth was higher than the estimated 1%," it said in a report.
Meanwhile, M&A Securities said moving forward, it expects the rough sea to calm in subsequent quarters as it thinks that commodity prices may have reached the bottom and hence, are poised to vault.
"The fact that the US Federal Reserve is still uncertain when to adjust its policy rates is indeed good news for global commodity prices. Evidently, WTI (West Texas Intermediate) and Brent have made good strides of late with both prices managing to stay up north.
"As such, in the absence of an unexpected sharp downturn of China's economy and negative surprises from US Federal Open Market Committee policy decisions, global commodity prices are poised to recover slowly," M&A Securities said in its economic report yesterday.
This article first appeared in The Edge Financial Daily, on May 8, 2015.