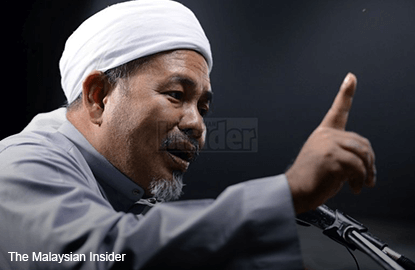 (Aug 5): Barisan Nasional (BN) strategic communications chief Datuk Abdul Rahman Dahlan's explanation on the RM2.6 billion in the prime minister's accounts leaves many questions unanswered, says PAS, such as why did Datuk Seri Najib Razak not admit to the money in his personal bank account from the very beginning.
The Islamist party's deputy president Tuan Ibrahim Tuan Man also hit out at Rahman, saying that as a person who gets his salary from the people, he should understand who his bosses were.
He said the people still wanted many answers, such as how state investment firm 1Malaysia Development Berhad (1MDB) accumulated RM42 million in debt.
"This is because we, the people, are the guarantors of the debt.
"It's a different issue if the one guaranteeing the borrowing is the prime minister's in-laws in Kazakhstan," he said in a statement today.
Tuan Ibrahim said that the prime minister could not expect people to believe that the RM2.6 billion was from donors just because the Malaysian Anti-Corruption Commission (MACC) said so.
On Monday, MACC announced that the money had gone to the prime minister's accounts, but that they were from donors and not 1MDB.
This, after The Wall Street Journal had reported on July 2 that close to US$700 million had been deposited into Najib's accounts, a large sum of which was transferred ahead of the 13th general election in May 2013.
"Why did the PM in the first place say that he never used any 1MDB funds for personal gain when he could have easily said that the money was from concerned donors?
"Given that he gets his salary from the people, he needs to explain to his bosses the source of the RM2.6 billion to avoid further speculation whether the prime minister is working for the donor or for the people," he added.
Tuan Ibrahim said that revealing the donors would also "help" the Inland Revenue Board (IRB) to pay a visit to the donor, adding that the Zakat Collection Centre would also be keen to visit this donor.
"Just because Rahman gave an explanation on the so-called trivial issues, it does not mean the matter is over," Tuan Ibrahim said.
He said other questions that remained unanswered were how much of the RM2.6 billion was spent by Umno and Barisan Nasional in the 13th general election and whether it went beyond the limit set by election laws.
"If it did, wouldn't the election results now be deemed null and void," he asked.
Tuan Ibrahim also wondered how IRB did not "sniff out" the fund for tax purposes.
Rahman, in his interview on TV1 last night, had criticised Tuan Ibrahim among others for continuing to raise unimportant issues over 1MDB, saying it was being done to divert public attention from the fact that they had misled the public with wrong information about the money in Najib's personal bank accounts.
He said in the interview that it was better for the Umno president to hold the party's assets and monies in his own account rather than parking them under proxies. – The Malaysian Insider