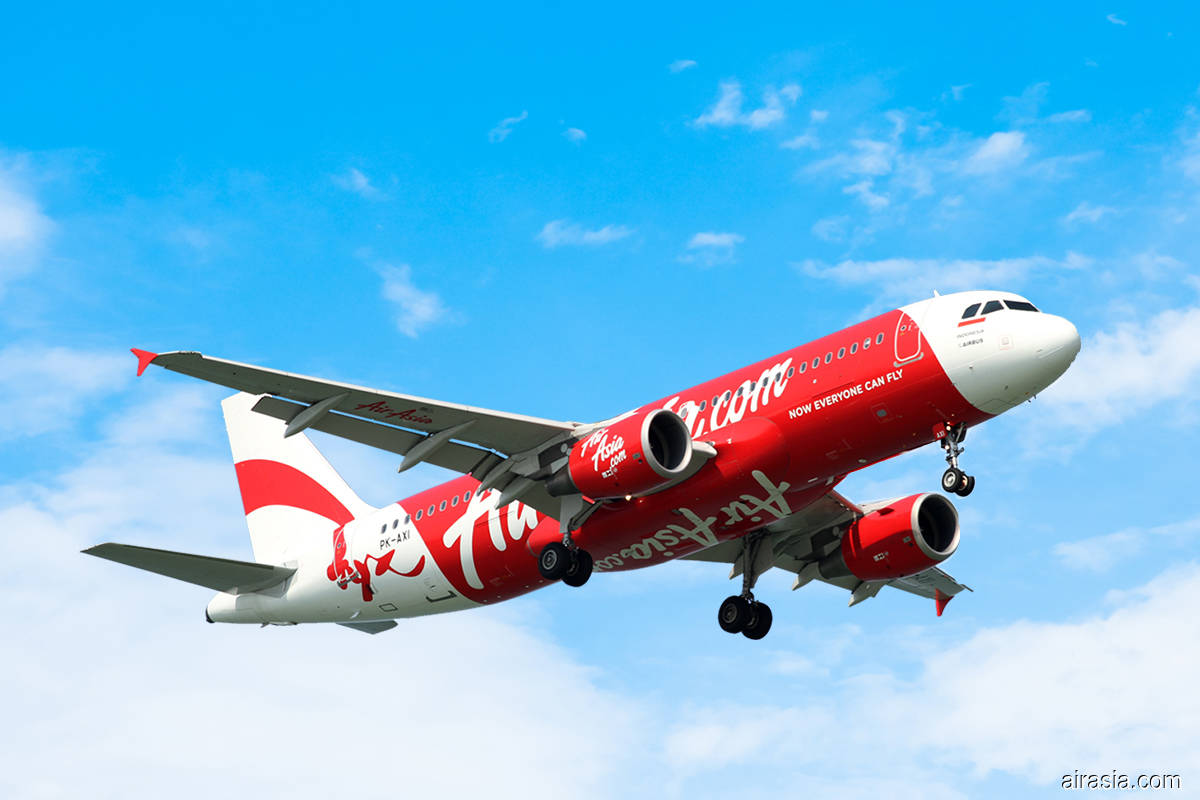 KUALA LUMPUR (July 14): The highly-anticipated cash call from AirAsia Group Bhd has received different reactions from analysts covering the budget airline, with some highly supportive of the mechanism involved, while others opined that the RM1.02 billion proceeds is not enough to support its cash flow requirement.
As investors shared optimism on the future projected returns from the rights issue, a major uncertainty looms. AirAsia has not received the undertaking from its co-founders (and chief executive officer and chairman) Tan Sri Tony Fernandes and Datuk Kamarudin Meranun for their portion of the rights issue.
When it announced the fund raising exercise on Monday (July 12), AirAsia said it intends to secure the undertakings from the duo, who control 26.4% in the company and have the right to subscribe to RM257.27 million or 25.1% of the intended RM1.02 billion fund-raising.
Concurrently, AirAsia also seeks to secure underwriters for half of the rights issue not to be subscribed by the duo – representing RM358.62 million or 35% of the total fund-raising.
To recap, AirAsia has proposed a rights issue of two redeemable convertible unsecured islamic debt securities (RCUIDS) at 75 sen apiece for every six AirAsia shares held. The seven-year RCUIDS comes with a free warrant for every two RCUIDS subscribed.
Shares of AirAsia fell five sen or 5.65% to 83.5 sen the day after the announcement, valuing the group at RM3.24 billion. PublicInvest Research in its note maintains its concerns over the budget airline's balance sheet weakness, even after taking into account the expected cash call, with target price of 19 sen per share. Notably, AirAsia had negative shareholder equity as at end-March 2021.
Meanwhile, KAF Research in deciding its 'hold' call of 80 sen on the counter, said: "While we view the proposed exercise positively, vaccination rollout is key to reinstate air travel; any resurgence of Covid-19 outbreak could be a major impediment to AirAsia's operations, as it remained in the red with needs to further raise funds in the future."
'Until aviation sector recovery' but when will that be?
To summarise, whether the proposal is positive for shareholders depends on whether one buys into the recovery trajectory, and whether the low-cost carrier will be able to secure the rest of the funding required to support its operations through other borrowings or more placements in the future.
If a reopening of borders by 1Q2022 is deemed a realistic projection, then the RCUIDS of 75 sen apiece would be a cheap entry point with 8% returns prioritised over shareholder dividend, coupled with ability to return the RCUIDS to AirAsia without capital loss, or convert them to AirAsia shares.
On the contrary, a resurgence of Covid-19 new cases have been recorded not only in AirAsia's home market in Malaysia, but also in all its other markets. Indonesia and Thailand are seeing new cases at record high, while Japan is also seeing another uptick at the time of writing. Across the region, cases are also rising in countries like Vietnam, Cambodia and Philippines.
Vaccination rates have also been slower in this part of the world. Aside from Singapore, Cambodia and Malaysia, other key AirAsia markets in ASEAN are lagging behind, which may contribute to slower-than-expected reopening of borders and slower return to normalcy for the aviation industry. Safe to say the third quarter of 2021 is not when planes will fly again, as was anticipated this time last year.
Meanwhile, Thailand's Pukhet island, which was reopened for tourists from July under its Sandbox scheme, recorded only six foreign Covid-19 cases out of nearly 5,000 inbound tourists to-date, although authorities said it is "not unexpected".
The test may be a prelude for a swift reopening in the region. TA Research, which has a target price of RM1.18 on the counter, recommended shareholders to subscribe to AirAsia's rights and "participate in AirAsia's recovery post-pandemic, which can be fast and furious."
Good proposition if rebound on track
If a return to normalcy is on the cards for AirAsia, the rights issue with free warrants seems like a good proposition, said Kenanga Research in its note.
"We think that the RCUIDS is a better investment option for those looking for an exposure to AirAsia, given its 8% yield and downside risk protected by a phased redeemable-at-par feature beginning in 4th year, while there could be potential upside from capital gains to be reaped from conversion at any time within the seven years from issuance, provided the rehabilitation process of AirAsia goes well," the research house said.
Meanwhile AmBank Research said AirAsia's share base may increase by almost 60% to 6.14 billion shares as the RCUIDs mature, which will dilute AirAsia's FY23 earnings per share (EPS) by 21% (partially mitigated by interest savings from the RCUIDS proceeds).
To be sure, AirAsia may redeem the RCUIDS from the fourth year onwards – meaning repaying the RCUIDS holders at 75 apiece. The RCUIDS holders may also convert the RCUIDS to AirAsia shares, if the share price rises above the RCUIDS subscription price. The RCUIDS will also be listed on Bursa Malaysia. 
On top of that, there are free seven-year warrants that will hold value, if AirAsia's prospects improve.
Other fund-raising in the works 
With RM336 million raised from the past private placements and as much as RM1.02 billion from the latest rights issue, that leaves another RM1.14 billion to be raised by the company to support its operations.
In its recent press release on the cash call, AirAsia said "it is also well progressed in discussions to secure a number of other fundraising initiatives". Fernandes in his last interview with The Edge three months ago, had expected to secure RM1 billion in loans from three Malaysian banks, pending approval from local regulators under the Danajamin guarantee scheme.
However the RM2 billion to  RM2.5 billion fund-raising proposed by AirAsia at the onset of the pandemic only incorporated funding until end-2021 – although some think the proceeds may last longer, considering AirAsia has reduced its cash burn rate to around RM29 million per month.
In the meantime, AirAsia is also seeking to raise US$300 million (RM1.26 billion) potentially from a listing of AirAsia Digital in the US – comprising its airasia super app, its logistics business Teleport, and its e-wallet app BigPay. Fernandes said the group is also in discussions with other suitors, including Malaysian and Indonesian private equity, Reuters reported.
Indeed, AirAsia had been profitable most of the time since its listing in 2005, with dividends issued out throughout the last decade – including two years of bumper dividends in FY18 and FY19 totalling RM1.54 per share.
Comparatively, a new capital injection of RM1.50 for every six shares held seems like a bargain. Can AirAsia secure all financing needed for the next six to nine months; and will the aviation sector rebound by then? Borders will have to be reopened before everyone can fly again.