This article first appeared in The Edge Financial Daily, on June 2, 2017.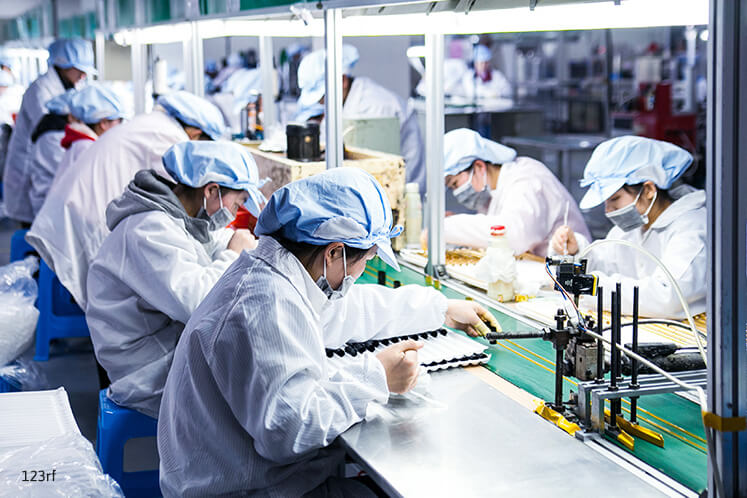 KUALA LUMPUR: Manufacturing output fell in May after the climb in four consecutive months this year amid slower demand, IHS Markit said in its Nikkei Malaysia Manufacturing Purchasing Managers' Index (PMI) yesterday.
It noted that while the rate of contraction was overall moderate, the pace was faster than the series average.
The Nikkei Malaysia Manufacturing PMI fell below the threshold of 50 to 48.7 in May. The index just breached the threshold of 50 in April — the first time in more than two years — indicating increasing manufacturing activities.
The drop in PMI signalled a renewed deterioration in business conditions, in contrast to April's marginal improvement.
Total new business also saw a decline, dragged down by lower new export work.
IHS Markit senior economist Paul Smith said the latest data "dashed hopes" of a sustained manufacturing upturn in Malaysia, seeing that the headline PMI has returned to contraction territory.
"Simultaneous growth in production and new work in April had raised the prospect of an economic turnaround, but both returned to [a] decline in May," Smith said.
"That said, there were some positives to take from May's survey. Employment rose for the first time in four months, and firms remained optimistic about the 12-month outlook. The degree of positive sentiment was relatively muted, however," he added.
IHS Markit said lower new orders were noted in nearby Asean markets, including Singapore, Thailand and Indonesia.
There were reports of lower new orders in nearby Asian economies in the latest period. Singapore, Thailand and Indonesia were among those mentioned.
Meanwhile, manufacturers were optimistic about their growth prospects, as output over the next 12 months is expected to be underpinned by higher sales, new projects and new product lines.
"That said, concerns regarding the state of the economy and client demand remained evident. Optimism was therefore lower than the average over nearly five years of data collection," IHS Markit said.
The employment rate in Malaysia rose for the first time since January, as price pressures eased.
"Employment was the main bright spot in the latest survey. Job creation was signalled at Malaysian manufacturers for the first time since January, although the rate of hiring was only modest," IHS Markit said.
"Backlogs of work were meanwhile broadly unchanged. Panellists indicated that volumes of work in hand were often dependent on incoming new orders," it added.
Input buying dropped following an increase in the previous month, but the rate of decline was modest.
IHS Markit said both pre- and post-production inventories were depleted, with firms working to streamline stocks amid subdued client demand.
Price-wise, both input costs and output charges grew albeit more slowly in May. IHS Markit said the respective rates of inflation were strong, with companies citing the impact of adverse currency movements on import costs.