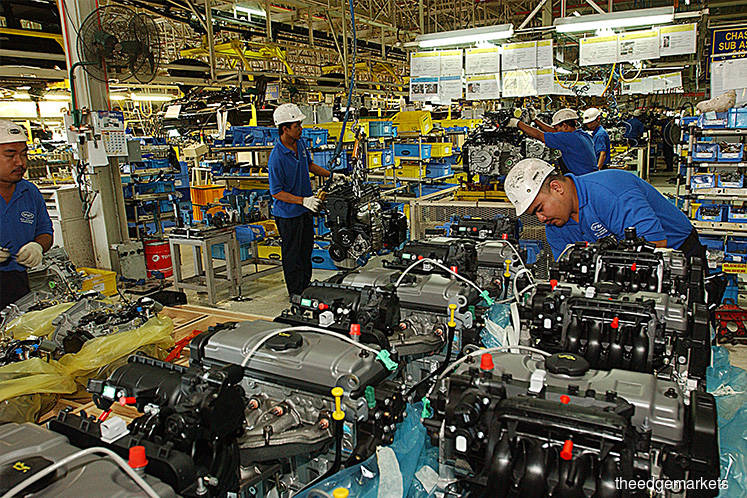 KUALA LUMPUR (Jan 2):  Manufacturing activity in Malaysia in December suffered the sharpest deterioration in manufacturing business conditions since the survey began six-and-a-half years ago.
The Nikkei Malaysia Manufacturing Purchasing Managers' Index (PMI) fell to 46.8, from 48.2 in November. A reading of above 50 indicates an expansion and below 50 points a contraction.
"Harsher reductions in production and new business dragged the headline index deeper into negative territory in December," said IHS Markit, which compiles the survey, in a statement today.
It said concerns over demand led companies to use existing stocks to clear backlogs and cut back input purchasing.
It said that as a result, supply chain pressures alleviated, while purchasing costs increased to a weaker extent.
Nonetheless, it said confidence strengthened amid upbeat sales forecasts for 2019.
"December data revealed the strongest contraction in the Malaysian manufacturing sector that has ever been recorded in the survey's six-and-a-half-year history," said IHS Markit economist Joe Hayes.
"Negative readings of the PMI have been recorded across each month of Q4, signalling that the goods-producing sector is likely to heavily weigh on the final GDP print of 2018," Hayes added.
Hayes said sub-indices provide some deeply concerning trends. Most notably, demand fell markedly, while export orders dropped for the first time since June amid reports of economic weakness across the Asia-Pacific region.
"With production falling, firms cut back stocks of inputs and finished goods, suggesting that prospects for the start of 2019 are likely to remain negative," said Hayes.