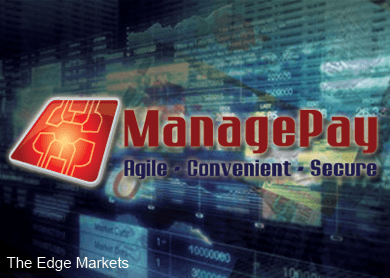 KUALA LUMPUR (July 29): ManagePay Systems Bhd has launched the MPay Mastercard prepaid card, which can be used to pay for bills and receive salaries.
The card enables purchase transactions, bill payments, telco prepaid reloads and domestic remittance services, ManagePay said in a filing to Bursa Malaysia today.
"The revolution of MPay Mastercard has enabled MPay to package an end-to-end payment ecosystem for the community at large as well, ranging from general purpose reloadable card, travel card, gift card, salary card and many more," it added.
The company said the prepaid card has security features such as EMV-chip and Mobile One Time Password (MOTP) for each purchase or funds transfer, offering cardholders more security when transacting in the country and abroad.
"MPay Mastercard can be used for various purposes — as a salary card where the employee's salary is deposited into MPay Mastercard, [as well as for] more efficiency with the payroll management," said ManagePay group managing director and CEO Datuk Chew Chee Seng.
"By eliminating the printing and delivery of pay checks or cash payment for employees who do not have a bank account, time and money can be saved without the worry of lost or stolen cash or tampered pay checks," he said.
Chew said cardholders will be able to withdraw cash at ATMs via Mastercard Network and enjoy exclusive discounts and privileges at selected merchant partners, when paying with MPay Mastercard.
He added that users can track their card balance conveniently via MPay Wallet mobile app, the call centre or via SMS request.
Mastercard Malaysia and Brunei country manager Perry Ong said the launch of the prepaid card is timely, as Malaysia looks to accelerate the migration to electronic payments, moving away from cash and checks.
The MPay Mastercard starter pack is priced at RM15.90, with a maintenance fee of RM6.36 per year.
Users must be a minimum of 18 years of age. Applicants who are 12 years old and above but below 18 years old, requires parental or guardian support.
MPay Mastercard Starter Pack can be purchased through multiple channels, such as co-brand partners, authorised resellers, and online.
The wallet size is at a maximum of RM10,000 at any one time and the maximum daily combined retail, as well as cash transaction limit, is also RM10,000.
ManagePay shares were unchanged at 20 sen in early afternoon trading today, giving the company a market capitalisation of RM142.09 million.