This article first appeared in The Edge Malaysia Weekly, on October 14, 2019 - October 20, 2019.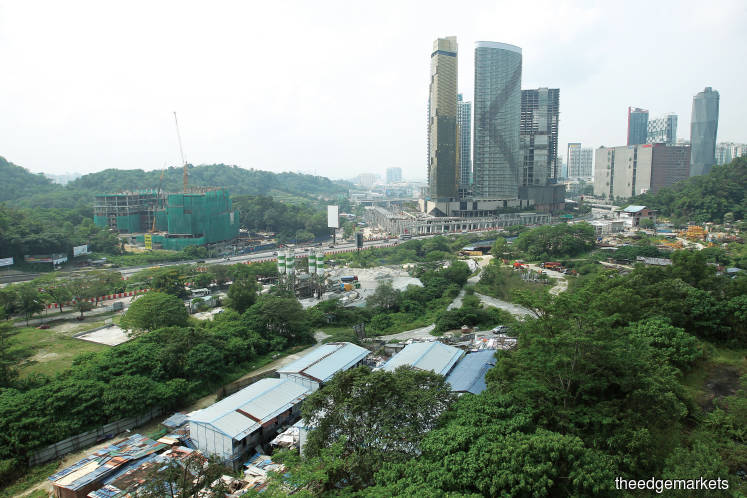 The 61-acre tract in Damansara Perdana, which MEH has offloaded, was originally earmarked for ECD2. Photo by Suhaimi Yusuf/The Edge
MAMMOTH Empire Holding Sdn Bhd (MEH), the developer of the RM5 billion Empire City Damansara (ECD1), has offloaded a 61-acre tract in Damansara Perdana, Selangor, to Exsim Development Sdn Bhd for RM760 million, government documents show.
The sale of the tract, which MEH had originally earmarked for ECD2, provides the company with a gain of some RM570 million over its purchase price. The land is located along Lebuhraya Damansara-Puchong (LDP), diagonally across from ECD1.
Six lots of land in Damansara Perdana were transacted in March, according to data from "10 million Ringgit Property Deals Report Volume 15", released by the National Property Information Centre (Napic) on Oct 1. A check by The Edge reveals that these parcels had been set aside for ECD2, a point subsequently confirmed by MEH executive director Datuk Danny Cheah.
At RM760 million, the deal for the 61 acres, or 2.67 million sq ft, works out to RM286 per sq ft (psf). MEH and Exsim have kept mum on the transacted price.
While earlier reports put the total acreage at 65 acres, Cheah explains that four acres had been surrendered for infrastructure such as a Majlis Bandaraya Petaling Jaya road, the Damansara-Shah Alam Elevated Expressway (DASH) and a water tank.
Previous documents, reports and announcements to Bursa Malaysia reveal that MEH had purchased these parcels between 2010 and 2011.
In 2010, MEH acquired a 41-acre tract and a 16.83-acre parcel in Jalan PJU8/8 from Saujana Triangle Sdn Bhd, a wholly-owned subsidiary of MK Land Holdings Bhd. Both pieces of land were purchased for an estimated RM130 million — the larger tract at RM55 psf and the smaller parcel at RM40 psf.
A year later, MEH purchased an adjoining parcel measuring 6.33 acres from Crest Builder Sdn Bhd, a unit of Crest Builder Holdings Bhd, for RM57.53 million or RM208 psf.
A valuer contacted by The Edge describes the transaction as "significant".
"The sale of the six adjoining commercial parcels along Jalan PJU8/8, Bandar Damansara Perdana, totalling 61 acres for RM760 million or RM286 psf represents the largest and most significant commercial transaction in Petaling Jaya to date," VPC Alliance (M) Sdn Bhd managing director James Wong tells The Edge.
"Originally dubbed the site of Empire City Damansara 2 and strategically located immediately west of the LDP, the proposed mixed-use development is expected to have a gross floor area in excess of 10.6 million sq ft. We consider the purchase price at RM286 psf as fair market value," he adds.
Wong says close by, in Jalan PJU8/8A, Gabungan AQRS Bhd had sold 2.66 acres to Gadang Holdings Bhd for RM55.69 million or RM480 psf in 2017. Moreover, there have been transactions of similar parcels in Petaling Jaya at between RM260 and RM480 psf.
"It has been zoned for commercial use and the land size of 61 acres allows for an integrated mixed-use development incorporating green technology, an urban park and economies of scale for infrastructure. Its location close to the LDP is an added advantage," he adds.
The sale is part of MEH's measures to pare down debt and complete the long-delayed ECD1. To complete ECD1, the company has formed a joint venture with Exsim, with the latter being its strategic partner.
Cheah says since the start of the year, MEH has settled RM588 million of loans with three banks. "We have cleared over 90% of our bank loans [of which] RM140 million was with AmBank, RM290 million with Maybank and RM158 million with Affin Bank. We have only a balance of RM40 million of loans with AmBank for ECD1."
The Maybank loan was for the Marriott Hotel and Empire Residence project in ECD1 while the Affin loan was for the 65 acres that it had purchased in 2010 and 2011.
"Hopefully, by 2020, we will be free of bank encumbrances. We want to plan and execute things at our own pace," Cheah says, when asked about MEH's focus going forward.
Touching on the beginnings of a "new journey for MEH", he says the company is expected to complete and reopen the Empire City Mall in 2022.
In June, The Edge reported that the MEH-Exsim JV would complete the outstanding developments in ECD1, which has a gross development value (GDV) of RM800 million. The projects include QUB and QUAD+ that comprise multipurpose suites, MacGuffin Hotel and Autograph Hotel. The HCK Tower is targeted for completion next year.
Apart from this, Exsim has also purchased 4.5 acres adjacent to ECD1 where it plans to develop Mossaz Tower and Paxtonz Tower, with a combined GDV of RM690 million.
Exsim head of corporate communications Michelle Siew says the company plans to change the name of ECD2 to Central Park Damansara, and that the development of the entire 61 acres — with an estimated GDV of RM9 billion — is expected to take eight years to complete.
Exsim is now in the process of getting approval for Phase 1 of the multibillion-ringgit integrated development. Siew says the master plan for the 61 acres is still in the planning stage.
Based on documents sighted by The Edge, Exsim plans to build 20 blocks of office buildings of between 28 and 49 storeys, five blocks of serviced apartments of 39 to 49 storeys and six blocks of affordable apartments of 43 to 47 storeys. Also on the cards is an auditorium, retail units, a hotel and a private educational institution.
For a start, it will be launching D'Quince Residences, with a GDV of RM580 million, that is currently in the registration stage and awaiting final approval.