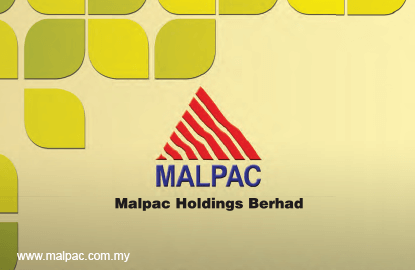 KUALA LUMPUR (Feb 13): Malpac Holdings Bhd today failed in its bid to get the Federal Court's permission to challenge a Court of Appeal decision concerning the sales and purchase agreement involving the group's plantation assets in Teluk Intan, Perak.
 
"At the hearing this morning, the Federal Court dismissed our applications for leave to appeal, citing that we did not meet the requirements of Section 96 of the Court of Judicature Act 1964," Malpac said in a filing with Bursa Malaysia.
 
The requirements are that the appeal must centre on a question of general principle decided for the first time or a question of importance, upon which further argument and a decision of the Federal Court would be to the advantage of the public.
 
Malpac said its board of directors will consult its solicitors on the next course of action.
 
Malpac's civil litigation relating to its Teluk Intan plantation assets, which account for more than 25% of its net assets, goes back as far as 2002.
 
In April 2002, Malpac via its wholly-owned unit Malpac Capital Sdn Bhd, signed the S&P agreement with Yong Toi Mee and Cheang Kim Leong to dispose Radiant Response Sdn Bhd, together with two parcels of land and the repayment of Radiant Response's shareholder's loan of RM30.6 million — which was part of a composite transaction and encompassing the palm oil mill situated on part of the plantation and owned by a third party lessee — for a total consideration of RM53 million.
 
In March 2014, the Federal Court dismissed the group's application for a judicial review, which was then followed by another series of litigation at both the High Court and the Court of Appeal.
 
Subsequently, Yong and Cheang had in August 2016 filed a civil suit against Malpac, its board of directors, its chief executive officer and Malpac Capital.
 
Yong and Cheang accused Malpac of alleged abuse of process, and alleged conspiracy to injure the purchasers by lawful and unlawful means.
 
In its 2016 annual report, Malpac reiterated that the S&P agreement involved a proposed disposal of more than 25% of group's net assets.
 
The group's view was that such a disposal required approval of Malpac's shareholders. However, it failed to secure the required shareholders' approval at an extraordinary general meeting in July 2014.
 
"The shareholders' decision at the EGM effectively meant that the earlier orders of the courts could not be carried through or given effect to, by reason of the provisions of Section 132C of Companies Act 1965 and Chapter 10 of the Bursa Main Market Listing Requirements," said Malpac.
 
It said it sought to bring the shareholders' decision to the attention of the courts. However, the High Court and the Court of Appeal took view that Malpac is not entitled to raise the issue of section 132C of the Companies Act.
 
Malpac's share price closed unchanged at RM1.42 today, for a market capitalisation of RM106.5 million.