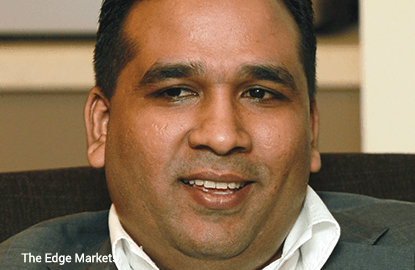 This article first appeared in The Edge Financial Daily, on March 15, 2016.
KUALA LUMPUR: Malindo Air, a joint venture between National Aerospace and Defence Industries Sdn Bhd (Nadi) (51%) and Lion Air of Indonesia (49%), will start to fly out from the Kuala Lumpur International Airport (KLIA) in Sepang today, two years after operating out of klia2. It was the first airline to operate out of klia2 in May 2014.
It was reported that the relocation is part of the airline's changing business model from a hybrid to a full-service airline.
Despite this relocation exercise, Malindo Airways Sdn Bhd chief executive officer Chandran Rama Muthy (pic) said the airline's ATR72-600 turboprop operations from the Sultan Abdul Aziz Shah Airport in Subang, Selangor remain unaffected.
"The main reason for us to move to KLIA is because we want to accommodate our airline partners, with whom we are keen to start interlining and a code-sharing partnership," he said in a statement yesterday.
"We hope that in the long term we will be able to contribute positively to the growth of the nation's aviation and tourism industries, and therefore boost the economic growth of the country further," he added.
Chandran also assured that all its passengers have been notified accordingly to ensure a smooth migration.
Last month, Malaysia Airports Holdings Bhd managing director Datuk Badlisham Ghazali was reported as saying that as Malindo Air evolves its business model from a hybrid to a full-service airline, there are many premium services demanded by its business-class passengers, which are more available at KLIA. "They also require a shorter turnaround time for the transfers in their cooperative engagement with the foreign carriers operating out of KLIA."
Malindo Air started operations in March 2013 with domestic flights and has since grown to operate routes to all major airports in Malaysia and across regional destinations in Indonesia, Thailand, India, Bangladesh, Nepal, Singapore, China, Australia, Sri Lanka, Vietnam and Pakistan. Its fleet comprised 11 ATR72-600s and 16 Boeing 737NG as of Dec 31, 2015.
Today, the airline operates over 800 flights weekly across a continuously growing network of about 40 routes in the region.