This article first appeared in The Edge Financial Daily, on November 22, 2019.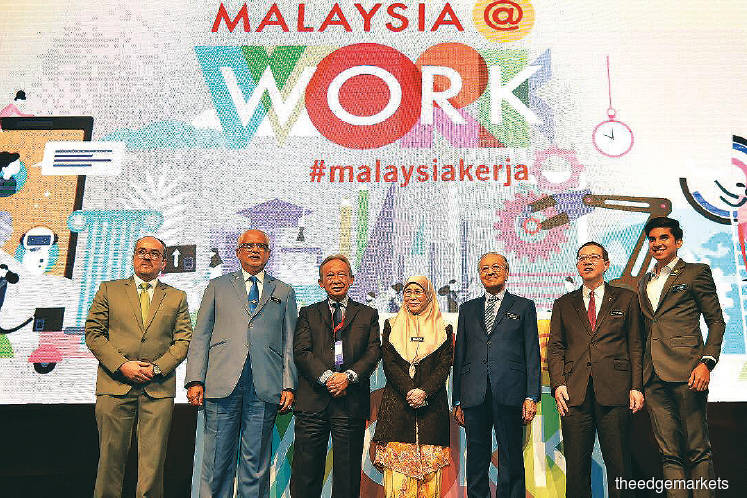 (From left) Tunku Alizakri, Mahfuz, EPF chairman Tan Sri Samsudin Osman, Wan Azizah, Dr Mahathir, Guan Eng and Syed Saddiq at the International Social Well-being Conference 2019 and the launch of [email protected] in Kuala Lumpur yesterday.
KUALA LUMPUR: The RM6.5 billion [email protected] initiative, unveiled in Budget 2020 in October, will commence in stages from the second quarter of next year (2Q20) facilitated by the ministry of finance through the Employees Provident Fund (EPF).
Finance Minister Lim Guan Eng, in his speech at the International Social Well-being Conference 2019 here yesterday where the programme was formally launched, highlighted that one of the country's most pressing social well-being issues is unemployment.
He pointed out that the programme, also known as #MalaysiaKerja, is a stimulus package that can help create up to 350,000 jobs over the next five years. The mechanism to implement it will allow participants to save for their retirement, besides giving them a higher disposable income to support their daily needs, he said.
"Basically, wages and hiring incentives under [email protected] will be credited directly into the individuals' accounts, offsetting the statutory contributions by employers and employees.
"Any excess amount of the wage incentive will be credited into a special account created by the EPF that allows for flexible withdrawal, in any amount, whenever needed," Guan Eng said.
He added that the government is confident the EPF has the knowledge, experience and resources to handle the "massive nationwide drive".
"The EPF is one of the oldest and largest retirement savings funds in the world. It also has access to possibly the largest database of workers and employers in the country, with more than 14 million members and over 504,000 employers.
"Still, I must stress that [email protected] is not an EPF-only initiative," he said at the event that was also attended by Prime Minister Tun Dr Mahathir Mohamad, Deputy Prime Minister and Women, Family, and Community Development Minister Datuk Seri Dr Wan Azizah Wan Ismail, Youth and Sports Minister Syed Saddiq Syed Abdul Rahman, and Deputy Human Resources Minister Datuk Mahfuz Omar.
The EPF, appointed administrator of the scheme, said the initiative's wage and hiring incentives will be a "win-win" for employees and employers.
EPF chief executive officer Tunku Alizakri Alias said the [email protected] initiative allows qualified employees under the scheme's target groups to have a higher take-home pay, while employers are incentivised to hire them as costs borne are lowered.
"The good news is that our graduates and other target segments are being prepared for the future while having higher take-home pay… and for employers, it will be cheaper for them to hire somebody from the [email protected] [target groups given the hiring incentive].
"This is about providing opportunities for work, [and] bringing in employers as part of the solution," Alizakri told reporters on the sidelines of the event. The [email protected] incentives are valid for two years, he said.
There are four components of [email protected] targeting specific groups. The [email protected] component focuses on providing employment for unemployed graduates while [email protected] aims to increase technical and vocational education as well as training participation among youth.
Meanwhile, the [email protected] component aims to attract talent among qualified women while [email protected] is intended to encourage locals to not be too selective and to consider dangerous, dirty and difficult jobs.
'Malaysian answer to resolving employment challenges'
Dr Mahathir, in his keynote address at the event, said the nationwide initiative will bring about long-term multiplier effects and is the "Malaysian answer to resolving employment challenges in the marketplace" as the country progresses.
This is especially concerning fresh graduates, as more jobs are being displaced due to technological disruptions. He said high youth unemployment rates may lead to the loss of their potential contribution to the country, wasted investments in education, and even a fragile ground for discontent and instability.
"We cannot let that happen. All we need to do is to look [at] places like Hong Kong, Beirut, and Santiago to see how the economically frustrated youth can bring about conflict and unrest, worsening the already precarious and unstable economic conditions.
"We are committed and focused [on ensuring] that all Malaysians are not left out and that we progress together as a nation... It will take a Malaysian team to solve this Malaysian problem," he said.
The initiative will see the involvement of several other ministries, like the ministries of home affairs, education and human resources, besides the ones led by Syed Saddiq and Wan Azizah, with support from the rest of the Cabinet.
The breakdown of perks under [email protected] and other schemes to promote employment are listed here, among all the highlights of Budget 2020