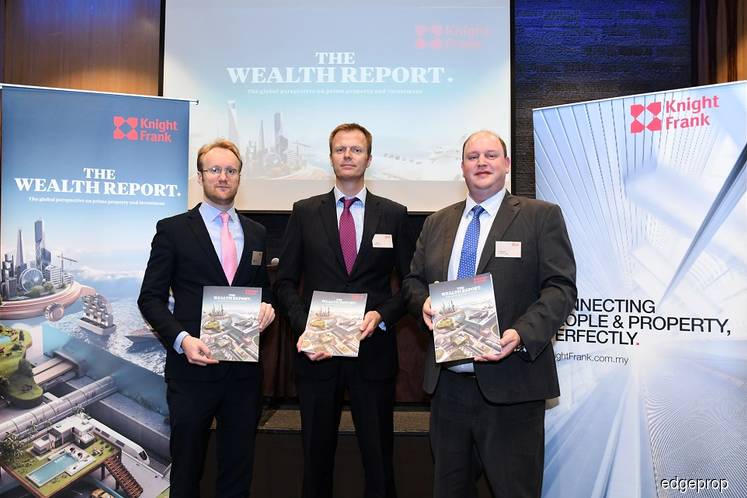 KUALA LUMPUR (April 5): Malaysia's ultra-high-net-worth individuals (UHNWIs) take the lead when it comes to owning the most number of primary and secondary homes in the Asia-Pacific region, according to The Wealth Report Attitudes Survey 2018, which is part of independent global property consultancy Knight Frank's 12th edition of The Wealth Report.
The survey reveals the issues that influence the investment and lifestyle decisions of the wealthy, based on the responses of 541 of the world's leading bankers and wealth advisors.
* Australia, S'pore and UK properties most favoured by M'sia's ultra-rich
* KL luxury home values drop 0.7% in PIRI 100 for 2017
The report, which was launched today, noted that on average, Malaysian respondents said their clients owned 3.5 homes each while their Chinese counterparts follow closely behind with 3.3 homes.
Despite already taking the lead, it seems like the Malaysian UHNWIs are not planning to slow down, as 33% of them are considering of buying another international home, compared with the global average of 23%.
Meanwhile, Malaysia also takes third place when it comes to the percentage of their portfolios allocated to property (excluding primary residence and secondary homes) at 44%, just behind Hong Kong (47%) and Australia (44%).
On the other end of the spectrum, Australians and New Zealanders were the least interested in acquiring more homes, as only 13% of Australians and 9% of New Zealanders are planning to buy more properties domestically, while only 11% and 6% respectively are considering investments overseas.
The report also noted that the UHNWI population increased by 10% in 2017, or 11,630 individuals, taking the global population to 129,730, according to data provided by Wealth-X for The Wealth Report.
Asia has also surpassed Europe in absolute numbers of ultra-wealthy individuals, with some 35,880 individuals categorised under the UHNWIs in Asia compared to 35,180 individuals in Europe.
The category is expected to grow further by 55% in Asia from 2017 to 2022, compared with 34% in the same period for Europe.
Mainland China is set to see a whopping 104% growth in the rise of UHNWIs from 2017 to 2022, to 17,980 at the end of the period.
Back home, Malaysia has also seen the growth of UHNWIs from 280 in 2016 to 310 in 2017.
The figure is expected to grow by 65% to 510 individuals between 2017 and 2022.
"2017 was a relatively strong year for growth in Asia Pacific, which has been reflected in the growth in wealthy individuals across the region. Despite global headwinds including a rising interest rate environment, the continued rebalancing of the Chinese economy and tensions around trade, the region is set for further growth in 2018, with wealth increasingly being accumulated through new sources of growth including technology-related industries," said Knight Frank Asia-Pacific head of research Nicholas Holt in the report.
The report defined UHNWIs as those with a personal net worth of over US$50 million (RM193 million) or more in net assets.