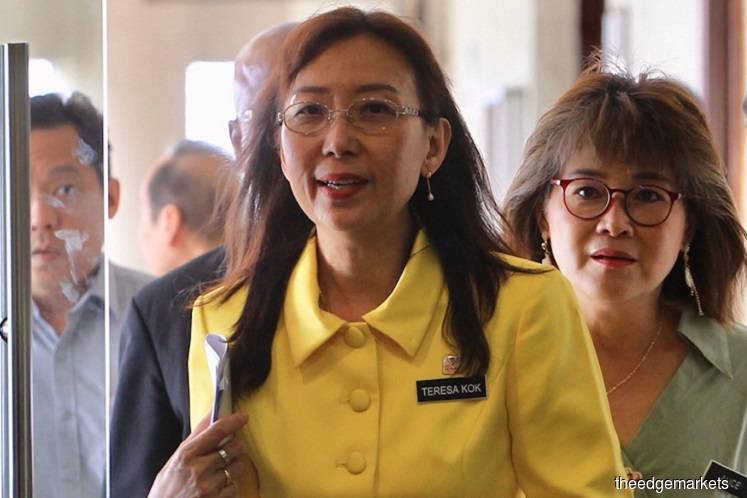 PUTRAJAYA (Feb 7): Malaysia's palm oil market share in Pakistan is set to grow from the current 22% following Karachi's commitment to buy more palm oil from the country, Primary Industries Minister Teresa Kok Suh Sim said today.
Aside from Pakistan Prime Minister Imran Khan's pledge to buy more Malaysian palm oil, Kok said Pakistani manufacturers have also expressed their strong interest in the country's palm oil during her recent visit to a refinery in Karachi.
"With this current deal and demand from palm oil manufacturers, I can see that there is room for improvement," she told reporters here after witnessing the handing over of 3.75 million pieces of medical gloves to China to assist in the fight against the 2019 novel coronavirus outbreak.
During his visit to Malaysia on Tuesday, Imran said Pakistan was prepared to buy more palm oil from Malaysia to compensate for losses following top buyer India's move to curb Malaysian palm oil imports.
According to the Malaysian Palm Oil Council, Pakistan bought 1.1 million tonnes of palm oil from Malaysia last year.
On whether Pakistan could actually afford to buy more palm oil from Malaysia, Kok said the matter could be ironed out through negotiations between the two countries.
"There will always be a demand for palm oil and fats. What both countries need to do now is to sit down and iron out issues under the name of bilateral trade," she said.
Kok said this in response to reports which quoted economists saying that Malaysia should not expect too much from Pakistan's pledge to buy more palm oil due to the latter's lack of money and weak internal demand.