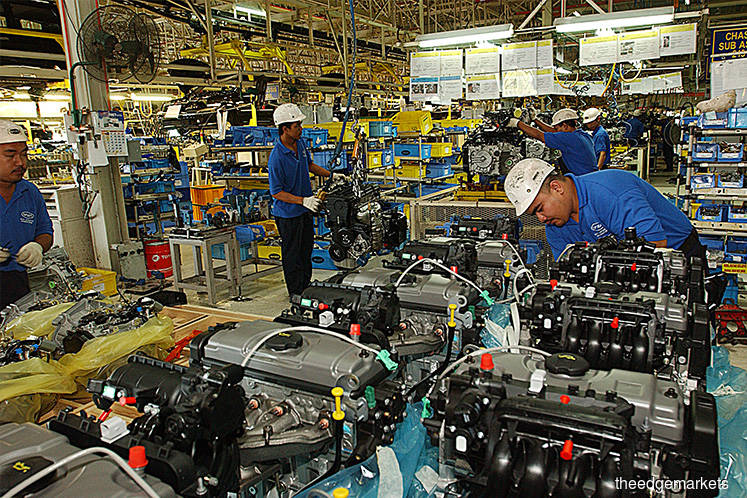 KUALA LUMPUR (Nov 1): The headline Nikkei Malaysia Manufacturing Purchasing Managers' (PMI) — a composite single-figure indicator of manufacturing performance — dipped below the 50.0 no-change mark in October to 49.2 (from 51.5 in September) for the first time since July, signalling worse business conditions than in the previous month.
A PMI of more than 50 points represents expansion in the manufacturing sector, and below that, contraction.
In a statement this morning, IHS Markit said the latest survey data pointed to a deterioration in the health of Malaysia's goods-producing economy at the start of the fourth quarter.
The deterioration in operating conditions was largely driven by a marked reduction in total new sales, it said.
It pointed out that although output was only slightly lower than in September, inflows of new work fell markedly and at the fastest pace in five months.
There was also a notable slowing of employment growth amid reports of cost-cutting initiatives.
According to the survey, detrimental exchange rate movements, rising raw material prices, and the sales and service tax (SST) were all cited as sources of cost pressures in October.
Output charges were raised in response, and to the greatest extent in six months, but weak demand restricted the overall rate of increase to only a slight pace.
It said input price inflation quickened to the fastest in almost a year, and in line with higher purchasing costs, buying activity declined for the first time since July.
"Survey data are showing the initial impact on the real economy that the implementation of the SST is having. The headline PMI dipped below the crucial 50.0 mark for the first time since July as cooling demand pressures, which eased to a notable extent on the month, weighed on the manufacturing sector," said IHS Markit's economist Joe Hayes.
Hayes said the SST introduction has "fueled a further month of sharp input cost inflation in Malaysia's manufacturing sector" at a time when global raw material prices are rising and the domestic currency is weakening.
The demand-side impact of the SST resulted in firms reducing both input buying and new staff hiring in October, as part of efforts to curb costs.
"Aside from the demand-side impact of the SST, there were reports of general underlying market weakness hampering new business growth, which restricted the extent to which firms were passing through higher cost burdens to clients," he said.
Nonetheless, export sales registered an increase at the fastest pace in nine months, with neighbouring countries across South East Asia supporting international demand for Malaysian goods.
And despite the negative start to the fourth quarter, firms expect output levels to lift over the coming 12 months, with planned expansion into new markets and stronger sales forecasts supporting business confidence.