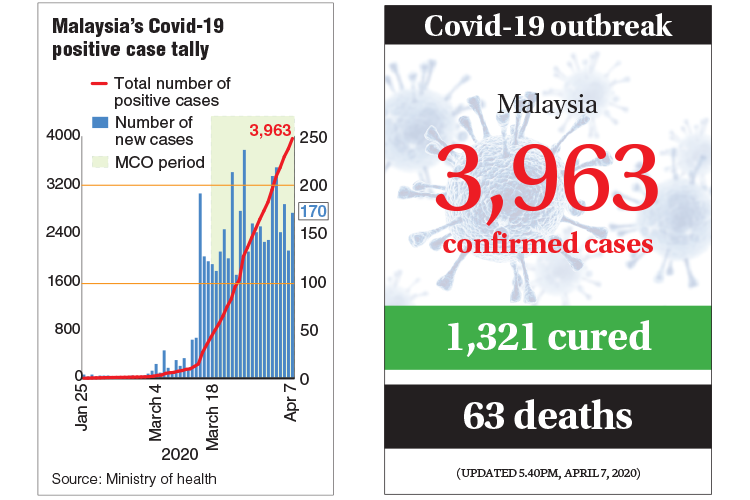 Click / Tap image to enlarge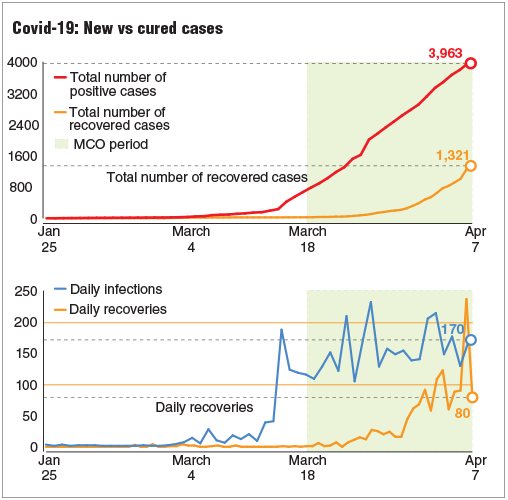 Click / Tap image to enlarge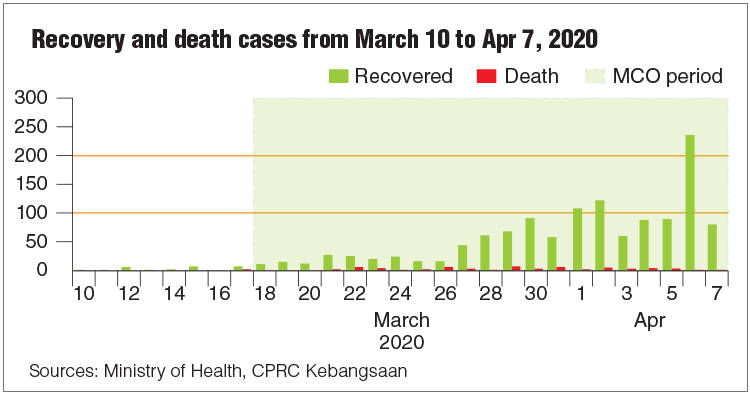 KUALA LUMPUR (April 7): The number of new Covid-19 cases rose to 170 today from 131 yesterday, pushing the total in the country to 3,963.
The overall number of infections has risen by 1,197 or 43.28% from 2,766 cases as at March 31.
Health director-general Datuk Dr Noor Hisham Abdullah said in a statement that meanwhile, 80 people were cured of the disease and discharged today, raising total recoveries to 1,321 or 33.33% of total cases to date.
Of all patients, 92 are currently in intensive care with 50 of them requiring respiratory assistance.
One person died of Covid-19 yesterday, bringing the number of fatalities to 63.
The deceased was a 71-year-old man who had participated in a tabligh gathering in Sulawesi, Indonesia from March 17-24.
He was admitted to Enche' Besar Hajah Kalsom Hospital in Johor on April 5 and passed away at 11pm yesterday.
Selangor exceeded 1,000 Covid-19 cases today with 50 new infections that raised its total to 1,020, while Kuala Lumpur saw 31 more cases, bringing its total to 671.
Both states cumulatively have 1,691 cases.
Selangor's highest single-day increase was 75 new cases on March 26, while Kuala Lumpur's single-day increase peaked at 59 cases on March 23.
Johor continues to be the state with the third-highest number of cases with 478 infections after 10 new cases were confirmed today.
This is followed by Sabah with one more case (241 total), Negeri Sembilan with 22 new cases (261) and Perak with 14 new cases (233).
Yesterday, three health districts became red zones after registering over 40 cases.
Including Putrajaya, Rembau in Negeri Sembilan and Jasin in Melaka, there are 21 red zones.
Meanwhile, the fourth enhanced movement control order (EMCO) has been executed on two buildings along Jalan Masjid India — Selangor Mansion and Malayan Mansion — after 15 positive Covid-19 cases were reported in that area, said Defence Minister Datuk Seri Ismail Sabri Yaakob in a statement.
The EMCO takes effect from today until all residents are screened, and involves around 6,000 residents in 365 residential and commercial units in the buildings.
Malaysia is currently the eighth Asian country with the highest confirmed infections, after China (81,740), Iran (62,589), Turkey (30,217), South Korea (10,331), Israel (9,006), India (4,858) and Pakistan (4,004).
Read also: 
Fourth EMCO in Selangor Mansion, Malayan Mansion along Jalan Masjid India — minister
Putrajaya, Rembau and Jasin join list of red zones, raising total to 21
#dudukrumahdiamdiam. We will deliver the news to you at theedgemarkets.com.