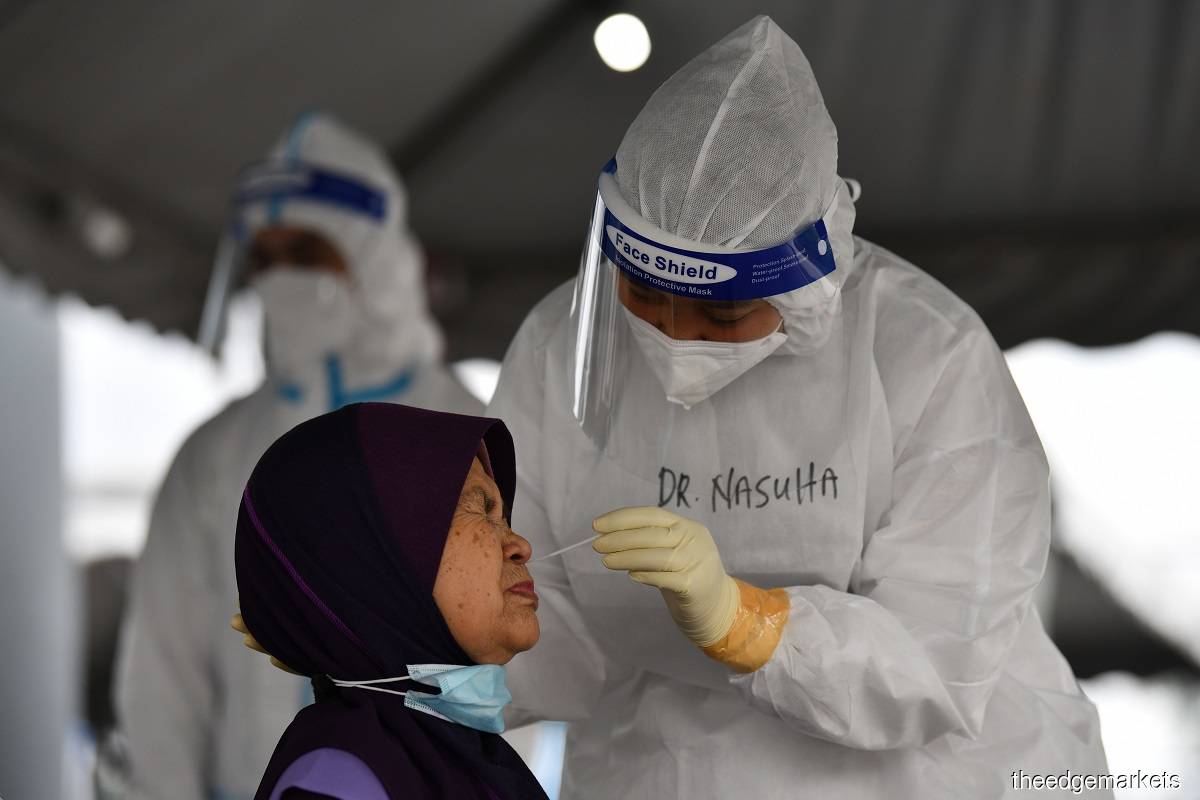 KUALA LUMPUR (April 12): Malaysia's new Covid-19 cases dropped to 1,317 today — from 1,739 reported yesterday — as the country's daily coronavirus cases remained above the 1,000 mark for the second straight week after a brief dip to 941 cases on March 29. Prior to that, new cases came in above 1,000 daily for over four months.
This brought cumulative confirmed infections nationwide to 362,173. Meanwhile, four more Covid-19 related deaths were reported — raising the Covid-19 death toll to 1,333. Two of the new fatalities were reported in Kuala Lumpur, and one each in Sabah and Selangor. The deceased were all locals, aged between 45 and 74 years.
Active cases climbed further to 15,835 today as new recoveries came in lower than new infections, at 1,052. Total recoveries stood at 345,005 or 95.3% of overall infections.
Sarawak recorded the highest number of new infections at 351, followed by Selangor (303) and Kuala Lumpur (116), according to Health director-general Tan Sri Dr Noor Hisham Abdullah in a statement.
10 more clusters identified
The Health Ministry has also detected 10 more infection clusters today, of which seven are linked to workplaces while three are community clusters.
The seven workplace clusters are: the Leepang cluster in Pahang with 23 infections, the Indera Mahkota Tiga cluster in Pahang (16 infections), the Industri Balakong Lapan cluster in Selangor (56), the Jalan Perjiranan Empat cluster in Johor (19), the Jalan Stadium Empat cluster in Kelantan (35), the Ara Murni cluster in Terengganu (16), and the Persiaran Salahuddin cluster that spans Putrajaya and Selangor (10).
The three community clusters are the Kabu cluster in Kedah (21), the Kampung Paya Pulai cluster in Pahang (10), and the Jalan Canning Estate cluster in Perak (39).
To date, 1,469 Covid-19 clusters have been identified in the country, while 1,124 clusters have been declared ended.
Earlier today, Senior Minister (Security Cluster) Datuk Seri Ismail Sabri Yaakob announced that Selangor, Kuala Lumpur, Johor, Penang and Kelantan will remain under the Conditional Movement Control Order (CMCO) until April 28.
Sarawak will also see its CMCO extended from April 13 until April 26.
Read also:
Putrajaya extends CMCO in five states and KL as it warns of possible fourth infection wave
Tan Choe Choe & Lam Jian Wyn