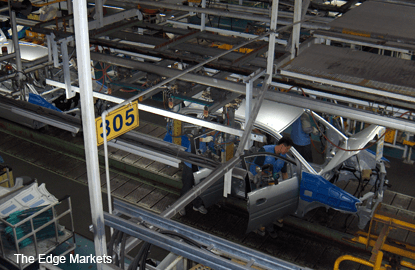 KUALA LUMPUR (July 12): Malaysia's May industrial production index (IPI) growth slowed to 2.7% year-on-year (y-o-y) as mining output fell, according to the Statistics Department.
In a statement today, the department said mining output declined 1.1% on lower crude oil production.
"The mining sector output contracted 1.1% in May 2016, as compared to the marginal growth of 0.6% registered in April 2016, mainly due to the 5.2% decrease in the crude oil index. The natural gas index however expanded by 4.5%," the department said.
Lower mining output had offset growth in the IPI's manufacturing and electricity segments, which expanded 3.6% and 9.6% respectively.
In April, the IPI rose 3% y-o-y.
May industrial out rose on a month-on-month basis. The IPI rose 0.9%, driven by the 1.3% and 0.4% growth in mining and manufacturing output respectively. Electricity production, however, fell 0.8%.
For the five months ended May, the IPI grew 3.1% y-o-y, supported by the 3.9% and 9% expansion in manufacturing and electricity output. Mining production contracted 0.3% during the period.