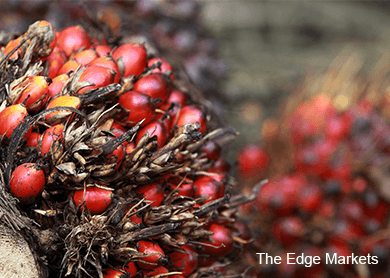 KUALA LUMPUR (Apr 10): Malaysia's crude palm oil (CPO) production for March increased 33.27% month-on-month to 1.49 million tonnes from 1.12 million tonnes in February this year, according to the Malaysian Palm Oil Board (MPOB).
MPOB said today March palm oil inventory, comprising CPO and processed palm oil, rose 7.02% to 1.87 million tonnes against 1.74 million tonnes. Total palm oil exports rose 21.52% to 1.18 million tonnes in March from 972,646 tonnes in February.
The March data had beaten market expectations, based on a Reuters's survey that indicated production and inventory could have risen 17.7% and 0.2% respectively.
Exports were seen climbing 18.3%.
In February, CPO output fell 3.37%. Palm oil inventory and exports dropped 1.51% and 18.35% respectively.
March's CPO output growth had come mainly on higher production in Sabah and Sarawak. Both states accounted for almost half of Malaysia's total palm oil supply in 2014, according to a Reuters report.
Earlier, Reuters reported that Malaysia's palm oil stocks likely rose for the first time in four months in March as higher output in the world's second largest producer of the tropical oil offset export demand.
Rising supplies of palm, coming at a time when the market is bracing for record harvests of rival oilseeds, will dent prices of the tropical oil that fell more than 6% in March – their worst monthly showing since August last year.
Industry players expect production to pick up pace as yields in the top-producing Borneo region recover.