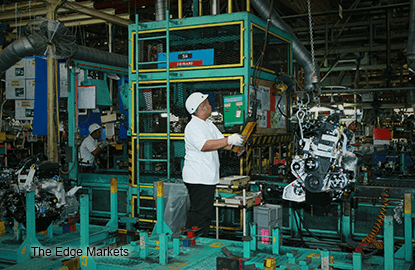 KUALA LUMPUR (Jan 4): Malaysia's headline Nikkei Malaysia Manufacturing Purchasing Managers' Index (PMI) in December 2015 rose only 1 point to 48 from 47 in November (the lowest reading since the survey began in July 2012) signalling that manufacturing operating conditions have continued to worsen at a slower, but still solid rate in Malaysia last month.
The PMI averaged 47.7 in the final quarter of 2015, equalling that seen in Q3 and the joint-weakest in the survey history, according to the latest survey data by Nikkei Inc and Markit Economics released today.
The survey data also showed production and new orders in December both declined at rates that were faster than the averages seen over 2015, leading to a further decrease in buying activity, while cost pressures intensified as input prices increased at the sharpest rate in over two years.
The survey showed 14% of surveyed companies registered greater output, compared to only 5% that recorded an expansion. Poor market conditions and a slump in demand led to the reduction in production, according to panellists.
Meanwhile, new orders at Malaysian goods producers decreased for the 10th successive month in December.
"The rate of contraction slowed from November's series record, but was nevertheless marked and sharper than the average over the current period of declines," it said.
Around 13% of panellists noted lower new work intakes, more than three times the proportion that noted an increase. Data suggested that the fall in total new orders was mainly attributed to the domestic market, as new export business increased in December.
However, new orders from abroad increased for the fourth month in a row in December, and at a slightly quicker rate than that seen in November.
International demand was stronger than the average over 2015 due to the weak exchange rate, and stronger demand from foreign clients helped boost export growth, according to anecdotal evidence.
Having said that, the weak exchange rate, which had resulted in greater imported raw material costs, also led to intensified inflationary pressures, with survey respondents mentioning the increase in sales tax pushing up input prices.
"Input prices increased at the fastest rate since November 2013. Greater raw material costs stemming from the weak exchange rate and a higher sales tax were cited as the key drivers behind the increase in purchasing prices. Concurrently, charges rose during December as manufacturers tried to pass on their cost burdens to clients," it said.
On a positive note, employment increased slightly in December. According to anecdotal evidence, firms hired additional workers in preparation for anticipated production growth in 2016.
The headline Nikkei Malaysia Manufacturing PMI is a composite single-figure indicator of manufacturing performance. It is derived from indicators for new orders, output, employment, suppliers' delivery times and stocks of purchases.
Any figure greater than 50 indicates overall improvement of sector operating conditions.