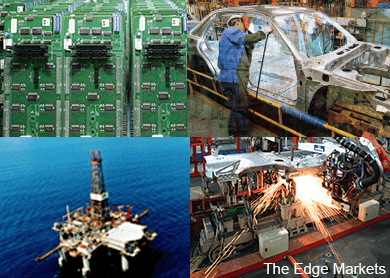 KUALA LUMPUR (Aug 10): Malaysia's industrial production index (IPI) grew 4.3% in June from a year earlier on higher manufacturing and mining output as electricity production fell, the Statistics Department said today.
According to the department's statement on its website, manufacturing output expanded 4.9%, buoyed by higher production of items including electrical and electronics (E&E) besides food, beverage and tobacco products.
Mining output increased 4% due to the increase in crude oil and natural gas production.
The department said electricity output contracted 2.3%. On a month-on-month (m-o-m) basis, June IPI grew 0.1%.
June IPI's 4.3% year-on-year (y-o-y) growth compared with the 4.5% rise registered in May this year, according to the department.
In the second quarter (2Q15), IPI rose 4.3% compared with the previous corresponding period due to the increase in all three components of the index.
Manufacturing and mining output rose 4.1% and 5.7% respectively, while electricity production climbed 0.6%.
The latest IPI data came ahead of the announcement of Malaysia's 2Q15 gross domestic product (GDP) numbers this Thursday (Aug 13).
Analysts said the country's 2Q15 GDP's y-o-y growth could have slowed.
"Locally, investors will be on the lookout for Malaysia's 2Q15 GDP data this Thursday. Consensus expectations are pointing towards a narrower growth of 4.5% y-o-y versus 5.6% y-o-y in the first quarter, affected by the impact from GST implementation and weaker demand in key exports sectors like E&E and oil and gas.
"The outlook remains murky, with private consumption affected by the GST implementation, weak prospects for exports on the back of low commodity prices and slowdown in key exports markets, and cooling sales in domestic property sector affecting construction activities. The hope is for the weak ringgit to translate into greater external demand and for the impending mega infrastructure projects implemented without delays," TA Securities Holdings Bhd wrote in a note today.