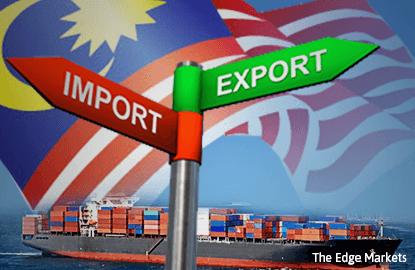 KUALA LUMPUR (March 3): Malaysia's exports increased 13.6% to RM70.2 billion from a year earlier on higher sales of crucial products like electrical and electronic (E&E) goods, palm oil besides oil and gas-related goods to major buyers.
In a statement today, the Statistics Department said Malaysia saw a rise in exports to countries including China and Singapore, besides European Union nations.
The department said Malaysia's E&E exports increased 11.4% while refined petroleum product sales rose 85.8%. Crude oil and liquefied natural gas exports climbed 48.1% and 2.8% respectively.
"Palm oil and palm oil-based products (8.5% of total exports) rose RM1.1 billion (+23.3%) to RM6 billion. Exports of palm oil, the major commodity in this group of products, expanded by RM584.1 million or 19.7% due to the increase in average unit value (+40.2%) as export volume decreased 14.7%," the department said.
Malaysian imports also rose. The department said imports increased 16.1% to RM65.5 billion from a year earlier on higher intermediate and capital goods purchases.
In December 2016, Malaysia's exports and imports rose 10.7% and 11.5% from a year earlier respectively, according to the department.