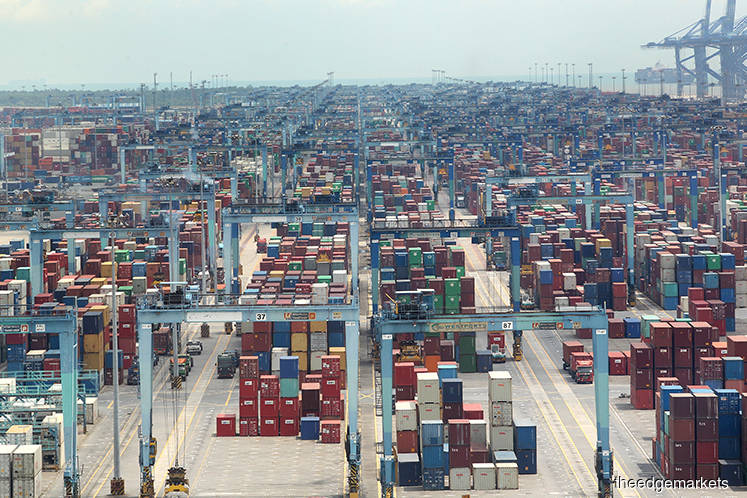 KUALA LUMPUR (Aug 3): Malaysia's June imports growth outpaced exports for the first time in the first half of 2018, according to the Department of Statistics Malaysia (DoSM).
Total trade in June 2018 stood at RM151.3 billion, up 11% or RM15 billion from June 2017.
In a statement released today, DoSM said imports growth in the month of June was 14.9% higher year-on-year (y-o-y) at RM72.6 billion.
The higher imports were mainly from China (+RM2.4 billion), Singapore (+RM1.6 billion), Taiwan (+RM1.3 billion), Republic of Korea (+RM921.0 million) and Saudi Arabia (+RM916.2 million).
"All the main categories of imports by End Use and Broad Economic Category Classifications (BEC) recorded increases from a year ago, namely intermediate goods (+RM1.2 billion), capital goods (+RM1.2 billion) and consumption goods (+RM275.5 million)," said DoSM chief statistician Datuk Seri Dr Mohd Uzir Mahidin in the statement.
Exports, meanwhile, was valued at RM78.7 billion, increasing by 7.6% y-o-y, resulting in a trade surplus of RM6 billion.
DoSM noted that Malaysia's export growth was contributed by the expansion in exports to Hong Kong (+RM2.4 billion), China (+RM1.7 billion), Taiwan (+RM646.4 million), Vietnam (+RM638.4 million) and Republic of Korea (+RM570.9 million).
Main products which contributed to the increase in exports were electrical and electronic products (+RM1.9 billion), refined petroleum products (+RM1.5 billion), and crude petroleum (+RM480.1 million).
Declines were recorded for palm oil and palm oil-based products (-RM1.3 billion), liquefied natural gas (-RM1.2 billion), natural rubber (-RM18.5 million), and timber and timber-based products (-RM14.1 million).
Re-exports rose 63.1% y-o-y to RM15.7 billion, accounting for 20% of total exports.