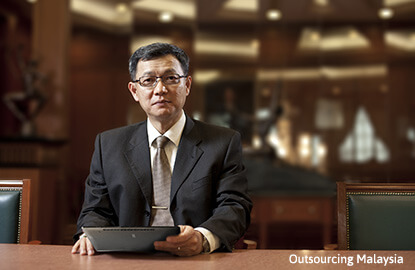 KUALA LUMPUR (Oct 18): Malaysia's global business services (GBS) is poised to record growth of 10% to 15% for the next five years, creating more than 6,000 jobs in 2016, according to Outsourcing Malaysia (OM), a chapter of the National ICT Association of Malaysia (PIKOM).
In a statement today, OM chairman Cheah Kok Hoong said the industry has even surpassed the 85,000 mark for jobs created, which is the target for 2017.
Cheah said a growing number of companies worldwide are using GBS firms in Malaysia to streamline operations and achieve better quality and cost efficiency.
"GBS is a new driver of business and investments for Malaysia.
"Yet, we face an acute talent shortage, which will impact our potential to be a global player," he said.
Cheah also urged the government to consider several measures under its budgetary plans for the coming year.
He said this included funding for talent development initiatives with local universities.
Cheah said OM had already established close working relationships with public universities, which can be tapped to ensure local graduates can secure jobs and develop industry relevant skills in a fast-growing industry.
"OM also recommends the creation of an industry oriented global GBS institute with a government investment of RM50 million," he said.
Cheah also requested more financial support for Malaysian GBS companies.
"OM recommends that a specific loan or equity scheme be allocated for the development of local GBS companies as working capital or for mergers and acquisitions.
"In addition, a creation of a single point of funding and facilitation for the expansion of local firms is recommended with an expansion fund of US$100 million (RM420.12 million)," he said.
Cheah also proposed greater outsourcing of government functions to local private sector firms.
"With government bodies having already outsourced their ICT, human resources, customer contact functions, etc to private local sector business and shared service providers, it is hoped that the outsourced functions remain in Malaysia and that more local GBS companies will be given opportunities to provide these services," he said.