This article first appeared in The Edge Financial Daily, on July 7, 2017.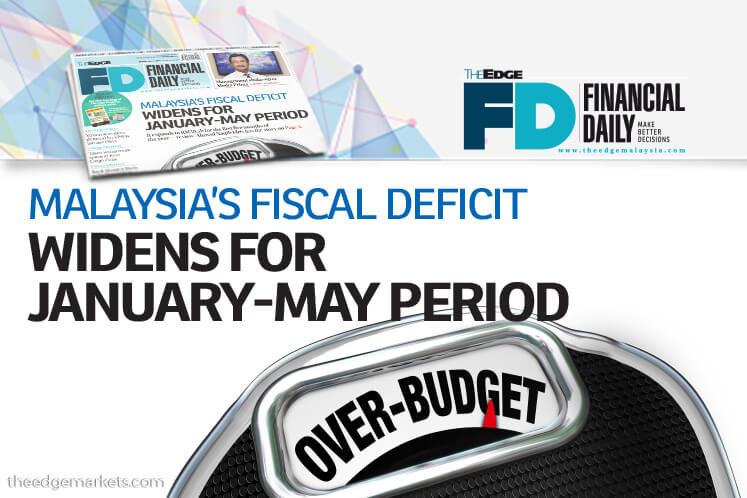 KUALA LUMPUR: Public spending remains on the rise, resulting in a wider fiscal deficit in the January to May period. The government has cut each ministry's budget to curb the ballooning operating expenditure.
The country's fiscal deficit widened to RM30.5 billion for first five months of the year (5M17), compared with RM26 billion in the previous corresponding period, following a recent surge in spending, according to Citi Research.
"The larger deficit partly reflects a larger shortfall in revenues relative to spending. Specifically, revenues fell 0.9% y-o-y (year-on-year) in 5M17, compared with targeted full-year growth of 3.4%," said Citi Research vice-president Kit Wei Zheng in the company's latest economic review on Malaysia.
He noted that while a drop in the petroleum income tax and personal income tax collections were partly responsible for the wider deficit, the recent surge in spending was also a contributor.
"After spending fell behind target in the first four months (-0.6% y-o-y versus budget target of +2.2%), a 22.3% spending surge in May brought year-to-date spending up 3.5%, above target.
"1Q17 (first quarter 2017) data suggest that spending has been clearly diverted towards areas with bigger political and growth 'bang for the buck'," said Kit.
He explained that grants and transfers to self-funding statutory bodies and subsidies saw large cuts, while growth-sensitive spending segments such as emoluments and supplies and services had significantly exceeded targets.
Excluding the growth-insensitive components, he expects Malaysia's fiscal position to fall from a surplus of RM2.5 billion in 2016 to a deficit of RM500 million in 2017.
"With fears over fiscal slippage likely to become a larger constraint, the persistence and magnitude of fiscal expansion will hinge critically on the timing of the general election, which is due by mid-2018," said Kit.
He opines that an early election in September or October this year is possible, if Barisan Nasional (BN) would like to seize the opportunity of a fractured opposition, the "feel-good" factor following the SEA Games in August and the recent outperformance of the local stock market.
A successful early election in tandem with the recovery in crude oil prices would make it easier for the finance ministry to achieve its targeted average deficit of 2% to 2.5% of gross domestic production between 2017 and 2019, he said.
However, Kit acknowledged the rising risks of an election closer to the mid-2018 deadline, which implies a significantly slower pace of fiscal consolidation.
A later election will buy time for the government to address the rising cost of living, he said, which has emerged as the dominant issue facing BN's core support base of lower income urban and rural voters.
Besides that, the issues surrounding Felda Global Ventures Holdings Bhd could further complicate the timing, as Felda settlers have been a core support base for Umno.
"While the severely weakened state of the opposition suggests these incidents are unlikely to result in a loss for BN, they do reduce the odds of regaining the coveted two thirds parliamentary majority, unless more time can be bought to resolve these issues," he said.