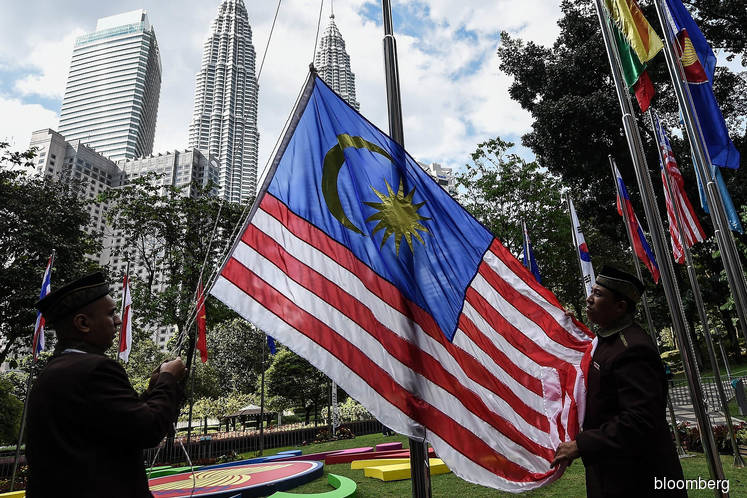 KUALA LUMPUR (May 17): Malaysia can reduce its fiscal deficit to around -2.7% or -2.8% in 2018 if the Pakatan Harapan (PH) government holds up to its promise for an efficient and prudent government, according to AmBank Research. 
In a note today, AmBank chief economist and head of research Dr. Anthony Dass said PH's manifesto to switch the goods and services tax (GST) to sales and services tax (SST) and introduce electricity and fuel subsidy could actually swell up the deficit to RM51 billion, which translates into a fiscal deficit of -3.5% of the gross domestic product (GDP).
"However, based on the success story of Penang and Selangor under the PH, if we factor in a 5% reduction in operating expenditure through transparency, financial prudence, reduction in wastages, reduce corruption and better public service, the deficit will be around RM39 billion to RM40 billion, which translates into a fiscal deficit of -2.7% or -2.8% of GDP," Dass justified. 
Dass projects a shortfall in tax revenue collection through SST, compared with the GST, as the GST covers all participants in the market, ie. retailers and traders, while sales tax only covers manufacturers and services tax covers certain prescribed services such as professional ones. 
"Our extrapolation shows that the estimated revenue collected from SST will be around RM28 billion in 2018, resulting in a RM16 billion shortfall against the RM44 billion GST forecasted for 2018," he said. 
Meanwhile, the reintroduction of the electricity and fuel subsidies is expected to add RM2 billion and RM4.6 billion respectively to the RM26.5 billion overall subsidy budgeted for 2018. Total subsidy allocated during Budget 2018 makes up 11.3% of the RM234 billion total operating expenditure. 
However, Dass expects a similar model in managing the state of Penang and Selangor to be applied at the national level, which would mean greater level of transparency, financial prudence, reduction of wastage, reduction of corruption and better public services.
"These will help improve cost savings in the operating expenditure," Dass added. 
"If we assume the new administration is able to save 5% of its operating expenditure, which is estimated at RM239 billion–RM242 billion after incorporating the subsidies, and assuming there are no additional taxes which means the revenue will be around RM233 billion–RM235 bilion, the deficit will be around RM39 billion-RM40billion for 2018. And with no change to our GDP growth of 5.5% for 2018, the budget deficit is expected to be between -2.7% and -2.8%," Dass added. 
Fiscal prudence has been the key focus since the previous government, as it is noted that Malaysia had managed to reduce the budget deficit from 6.7% of GDP in 2009, to 3.0% in 2017.