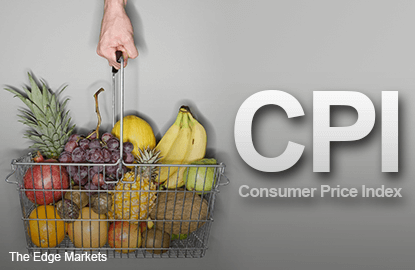 KUALA LUMPUR (March 24): Malaysia's inflation, as measured by the consumer price index (CPI), rose 4.5% in February from a year earlier, led by a significant increase in transport prices amid costlier fuel. 
According to the Statistics Department's statement today, the CPI's transport segment increased 17.9% in February, after rising 8.3% in January.
"The average price of 1 litre of RON95 petrol was RM2.30 in February 2017, compared to RM1.75 in February 2016. As for RON97, the average price increased to RM2.60 in February 2017, from RM2.05 in February 2016. 
"The index for food & non-alcoholic beverages which accounted (for) 30.2 per cent in the CPI weights, increased 4.3% in February 2017," the department said.
Year to-date, the CPI rose 3.9% from a year earlier and in monthly terms, February CPI climbed 1.3% from the preceding month, according to the department.
In January, the CPI rose 3.2% from a year earlier, the department said.