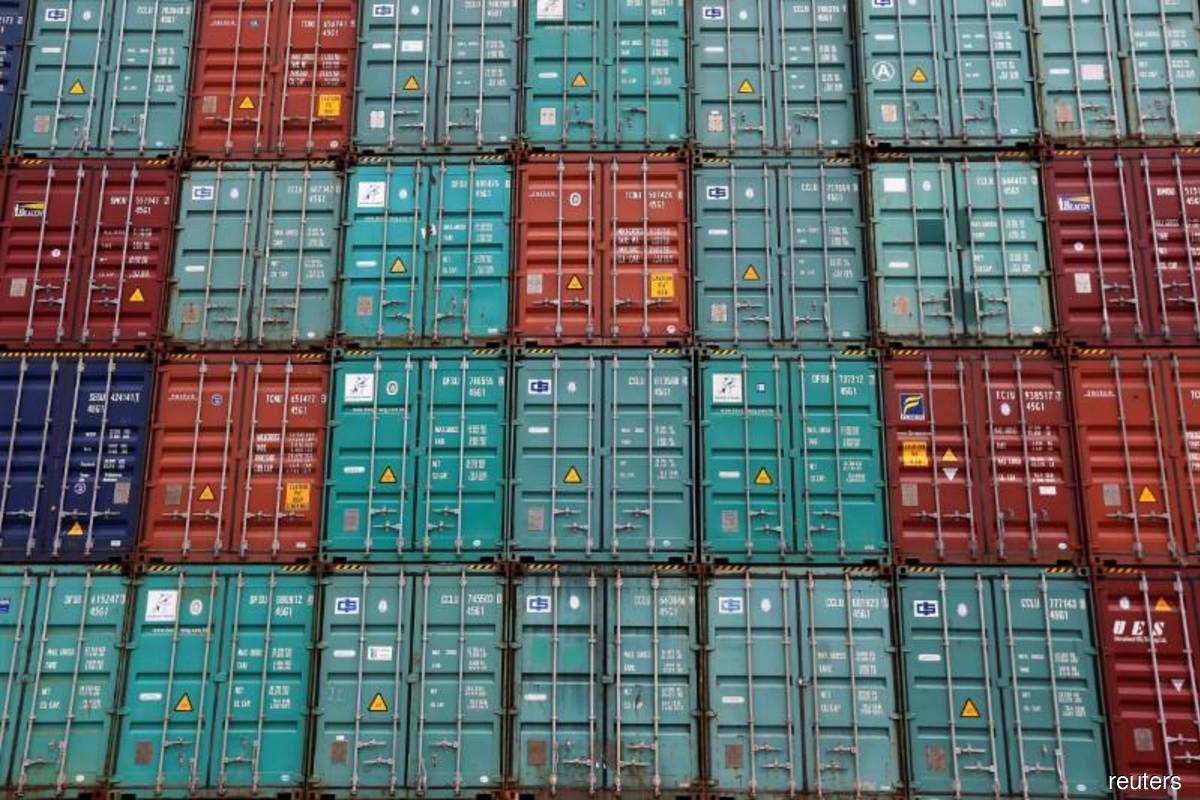 KUALA LUMPUR (Sept 29): After two consecutive months of positive growth, Malaysia's exports slipped back into contraction in August, with the -2.9% year-on-year (y-o-y) growth blamed on weak demand from regional partners.
The contraction is way off from Bloomberg's consensus of a 4.9% growth for August.
Imports, on the other hand, saw their sixth consecutive decline in August at -6.5%, according to the Department of Statistics Malaysia.
This has resulted in a trade surplus of RM13.2 billion in August, a growth of 19.7% y-o-y, while total trade was valued at RM145.1 billion, down 4.6% y-o-y.
For the first eight months of the year, exports saw a 5.2% y-o-y contraction, compared with 0.6% growth in the same period last year, while imports fell 6.6% compared with a 3.9% decline previously.
MIDF Research said exports to the Asean bloc — which contributed about 28% of Malaysia's total exports — dampened by 8% y-o-y, dragging down the overall export performance for the month.
Outbound shipments to all major countries in the bloc except Singapore contracted, with Thailand chalking the highest drop at 23% y-o-y, the research firm said, adding that the electrical and electronic (E&E) and chemical products — which are the country's biggest export products to Thailand — declined by 13.5% and 23.9% respectively.
"Weak demand from regional partners reflects the economic condition of the countries which were significantly affected by this pandemic and taking longer for a sustainable recovery," MIDF Research said.
Exports to China and the US, however, remained solid in August with double digit growth of 20.9% and 13.6% respectively, driven by sales of E&E and rubber products, among others.
While all three key factors, namely manufacturing, agriculture and mining, recorded a fall in exports for August, the research house was concerned over the export outlook for mining goods, after it recorded a huge 25.9% y-o-y fall.
Moving forward, MIDF Research is maintaining its 2020 exports forecast of -3.5% y-o-y, supported by sale of selected products, particularly E&E, palm oil and rubber products.
Affin Hwang Capital, which is projecting gross export growth to decline by 5% in 2020, is of the view that the sharp contraction in exports growth had already bottomed out in the second quarter of the year.
"Going forward, despite the decline in export growth in August, we expect the country's trade performance to be continually supported by pickup in global economic activity and healthy global demand for semiconductors," Affin Hwang said in a research note.
Despite Malaysia's manufacturing Purchasing Managers' Index (PMI) falling to 49.3 in August from 50 in July, the research house noted that demand continued to recover, where the pace of moderation was similar to that registered in June and July, and not as sharp as in the second quarter, Affin Hwang said.
Furthermore, the momentum of production also remained stable, despite having slowed from the initial ease in lockdown measures, it added.
However, the research house cautioned that export growth may still be subject to some downside risks. "The risk of a (Covid-19) second wave or third wave in other countries (possibly in Malaysia) could lead to a reimposition of containment measures. which will disrupt global supply chains and hamper external demand," it said.
Another potential downside risk is the reescalation of trade tensions between the US and China, especially as both countries remain as main trading partners, Affin Hwang said.