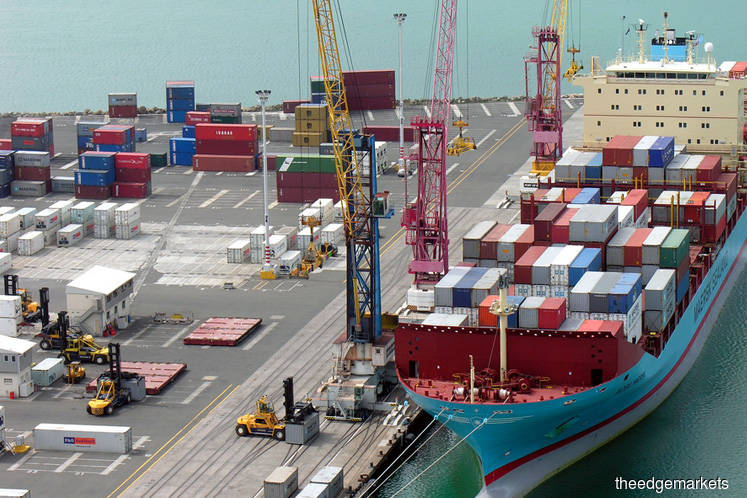 KUALA LUMPUR (Jan 30): Malaysia's exports expanded 4.8% year-on-year (y-o-y) to RM83.27 billion in December on higher demand for its electrical and electric (E&E) products, chemicals and chemical products and machinery, equipment and parts.
E&E products, which account for 39.4% of total exports, rose 14.2% to RM32.81 billion, the Ministry of International Trade and Industry (MITI) said in a statement today.
Chemical and chemical product exports grew 36.6% y-o-y to RM5.35 billion, while machinery, equipment and parts rose 7.6% to RM3.37 billion.
MITI said total imports inched up 1% to RM72.84 billion on the back of higher uptake of intermediate and consumption goods.
Intermediate goods imports increased 3.1% to RM39.55 billion and consumption goods improved by 5.7% to RM6.58 billion. Capital goods imports fell 21.7% to RM9.46 billion.
MITI said total trade in December was valued at RM156.12 billion, up 3% from a year ago. Significant increase in trade was recorded with Asean countries, the US, Hong Kong, Taiwan, China, Australia, India and Pakistan.
The trade surplus was higher at RM10.43 billion, up 41.6% from RM7.37 billion recorded a year ago. This is the 254th consecutive month of trade surplus since November 1997.
For 2018 as a whole, Malaysia's exports grew 6.7% from 2017 to RM998.01 billion, mainly driven by the export growth from manufactured and mining, E&E, crude petroleum exports, said MITI.
Imports for the year grew 4.9% to RM877.74 billion.
Total trade increased by 5.9% to RM1.88 trillion, from RM1.77 trillion in 2017.
The trade surplus widened 22.1% in 2018 to RM120.27 billion, registering the fastest rate in 10 years and the largest trade surplus since 2012.