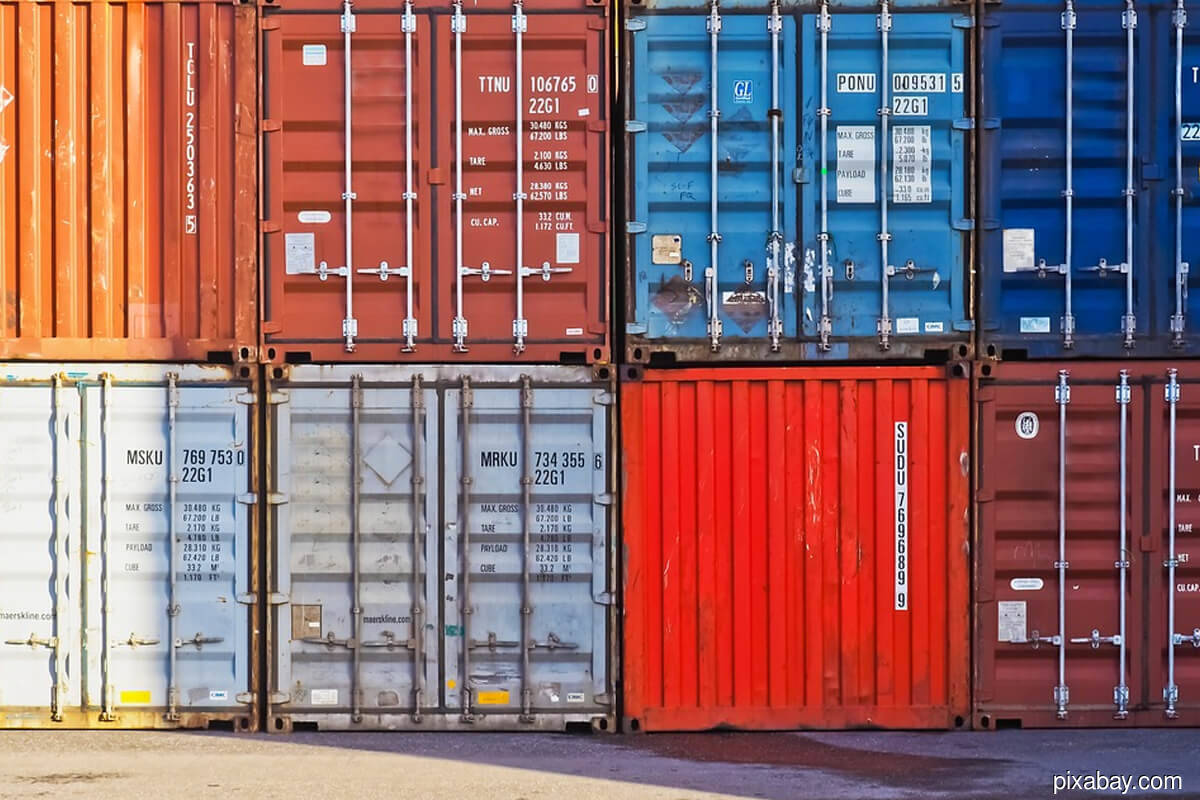 KUALA LUMPUR (Sept 28): Malaysia struggled to keep its export momentum in August due to weak demand from regional partners, causing the country's exports figure to contract 2.9% year-on-year (y-o-y) after two straight months of positive growth.
MIDF Amanah Investment Bank Bhd (MIDF Investment) said exports to key trading partners, China and the United States, remained solid during the month with double-digit y-o-y growth of 20.9% and 13.6% respectively driven by, among others, sales of electrical and electronic (E&E) and rubber products.
"However, exports to the ASEAN bloc, which contributed about 28% to Malaysia's total exports, dampened by 8% y-o-y, dragging down the overall export performance for the month," it said in a research note today.
It said outbound shipments to all major countries in the bloc, except Singapore, shrank, with Thailand chalking the highest drop at 23% y-o-y.
"E&E and chemical products, which are our biggest export products to Thailand, declined by 13.5% y-o-y and 23.9% y-o-y, respectively.
"Meanwhile, Singapore managed to just record a marginal growth of 0.8% y-o-y as the performance was influenced by a drop in sales of other products despite a robust exports growth of 11.3% y-o-y and 26.2% y-o-y in E&E and petroleum product, respectively," it said.
MIDF Investment said weak demand from regional partners reflected the economic condition of the countries which were significantly affected by the pandemic and taking a longer time for a sustainable recovery.
It said Malaysia's re-exports, however, managed to register an expansion of 8.5% y-o-y but were unable to offset the fall in domestic exports at 4.9% y-o-y as the latter accounted for about 82% of total exports.
Meanwhile, it said imports continued to be in negative territory, albeit at an improving pace of -6.5% y-o-y from -8.7% y-o-y in July.
"As imports fell harder than exports, trade surplus was recorded at RM13.2 billion. On a monthly basis, both exports and imports contracted by 14.5% month-on-month (m-o-m) and 2.2% m-o-m, respectively," it said.
MIDF Investment said it was maintaining its exports growth forecast of -3.5% y-o-y in 2020 supported by sales of selected products particularly E&E, palm oil and rubber products.
"We expect overall increasing trend in sales of these goods to continue for the remainder of the year in line with resumption of activities globally," it said.
It said demand for E&E products, for instance, was likely to continue increasing on a gradual manner buoyed by certain segments such as medical devices and electronic devices that facilitated the new norm of working from home.
MIDF Investment said the same expectations were built for palm oil and palm oil-based agriculture products as exports would be supported by the suspension of palm oil export duty until December 2020.
Demand for rubber products, particularly medical gloves, would probably remain elevated at least until the middle of next year, it said.
"Despite the positive recovery, outbound shipments will remain lower than last year's levels as multiple downside risks remain prevalent including new wave of Covid-19 and rising protectionism as it will hinder most of the countries' effort to restart their respective economies," it added.