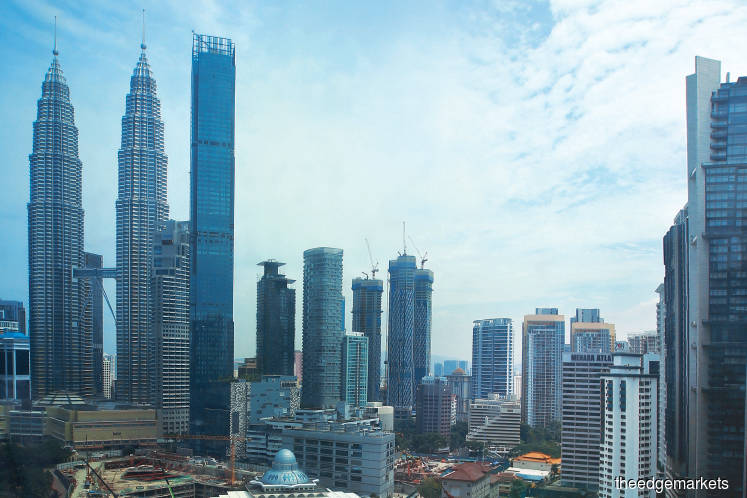 KUALA LUMPUR (Nov 25): Malaysia's economic growth could accelerate beyond 2020 if commodities prices were to pick up on the back of a recovery in global economic growth.
Moody's Analytics chief economist for Asia-Pacific Steven G. Cochrane said Malaysia's economic growth would likely slow down in the next two years as weak global economic outlook could weigh on commodity prices.
"Malaysia, as an open economy, is susceptible to global trend. Every region in the world could see slower growth in 2019 and 2020," he told Bernama during the Moody's Analytics Economic and Credit Risk Forum recently.
Cochrane projected that Malaysia's real gross domestic product (GDP) growth may slow down from 5.9% in 2017 to 4.8% in 2018, 4.4% in 2019 and 3.6% in 2020.
"The lower commodity prices because of slower global economic growth will hurt emerging markets and Malaysia.
"We don't see any acceleration in commodity prices until the global economy picks up," he added.
Crude palm oil (CPO) prices have seen significant weakness since the start of this year, with CPO futures prices hovering near RM2,000 per tonne, due to high stock level and weak demand.
He said the US fiscal stimulus, which has been supporting the US economy, was expected to come to an end in 2020 and this may slow down US' economic growth and weigh on the global economy and the commodity market.
"If we can get to 2020, without a recession in the US and Europe, then there could be a rebound in global growth in 2021 and 2022," he said.
Cochrane said the US-China trade war could also impact on global trade and economy, and in the worst case scenario, it could disrupt supply chain and lead to recession in the US and hurt other economies.
"A lot depend on US President Donald Trump's and Chinese President Xi Jin Ping's meeting at the G20 Leaders' Summit in Buenos Aires at the end of this month.
"All eyes will look for signals coming from Trump and Xi if there could be some settlement on the trade war and if the Trump administration were to allow tariffs to rise to the schedule 25% by next year," he said.
If tariffs were to rise and expand to include all trade between China and the US, he said, it would add friction to the Malaysian and global economy.
As for Malaysia, he said, the risks were clearly on the downside, as they were much for the rest of the region as the expectation of a weaker global economy has dampened oil prices, as well as export orders.
"As a net oil exporter, falling oil prices means the dollar volume of exports will be reduced.
"The price for crude oil has fallen because global demand has slowed and production out of the US shale producing areas has accelerated quickly over the past year.
"The fact that US production has risen so quickly meant that the Organization of the Petroleum Exporting Countries has less ability to control prices," he said.
Cochrane said the sanctions on Iran oil have no significant impact on oil prices, as there were a number of exemptions in placed.
He said that oil price, based on West Texas Intermediate as a measure of oil price, was projected to be at the US$69.1 per barrel this year, and move to US$67.2 per barrel in 2019 and US$63.5 per barrel in 2020.
Cochrane emphasised that Malaysia's effort to improve transparency and the peaceful transition of power to the new government this year were positive in terms of investors' confidence, and in the longer term good debt management would support economic growth as there would be less budget for debt servicing.
"As the government tightens fiscal policy to improve debt management amid slower export growth, Malaysia's economic growth is expected to slow during the next two years," he said.