Click / Tap image to enlarge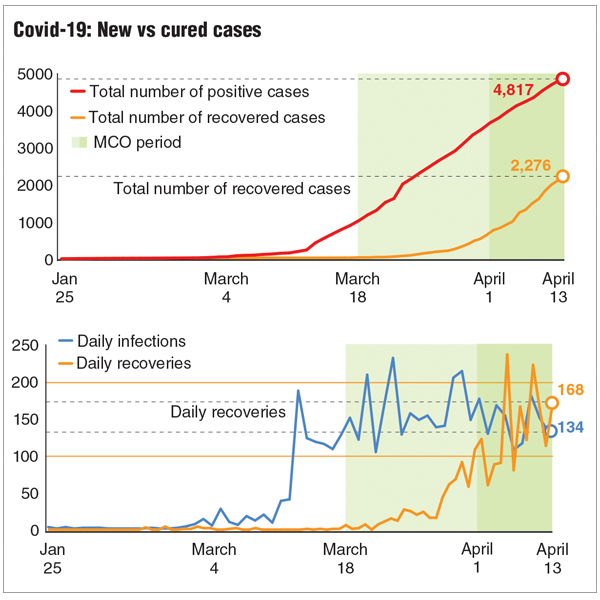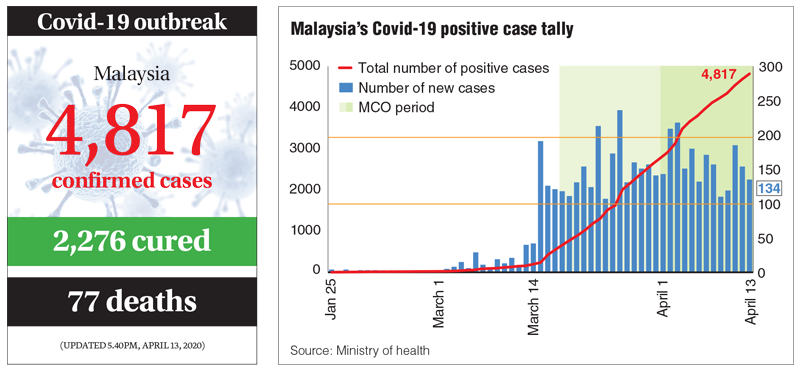 Click / Tap image to enlarge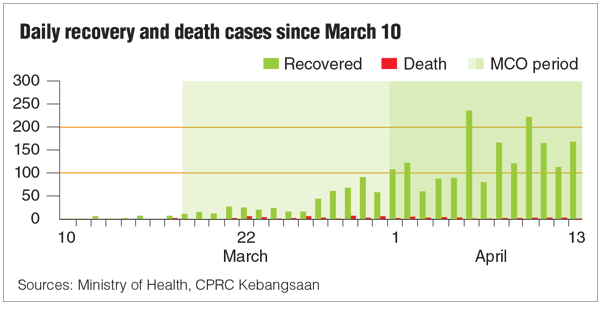 *This article has been amended, following the notice of an errata issued by MoH about the latest fatality*
KUALA LUMPUR (April 13): Malaysia's daily recoveries from the Covid-19 outbreak have exceeded daily new cases for the fifth time, with 168 patients set to be discharged as of noon today, compared with 134 new infections discovered.
This brings the country's total recoveries to 2,276 or 47.23% of total confirmed infections, which now stand at 4,817, according to the Ministry of Health.
One more death was reported today, raising the death toll to 77.
The deceased was a 62-year-old man with a history of high blood pressure, heart illness and kidney problems. The victim, who was treated at Hospital Melaka, was confirmed dead at 9.15am today.
This leaves 2,464 patients still undergoing treatment, of which 66 are in intensive care, with 36 requiring respiratory aid.
Selangor remains Malaysia's worst coronavirus-hit state, with 1,249 cases after adding 13 new ones today, followed by Kuala Lumpur with 830 cases after adding 27 more.
Johor is the state with the third-highest number of infections, at 579 (up 21 cases), followed by Negeri Sembilan at 360 (up 42) and Sarawak at 348 (up 6).
Malaysia now has the second-highest number of Covid-19 infections in Southeast Asia after the Philippines, which has 4,932 cases. Indonesia comes in third with 4,557 cases, following an addition of 316 cases. 
#dudukrumahdiamdiam and get the news at theedgemarkets.com.