Click / Tap image to enlarge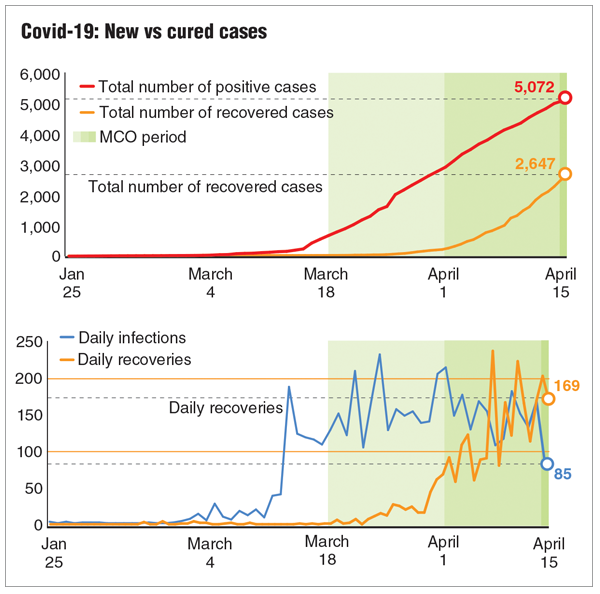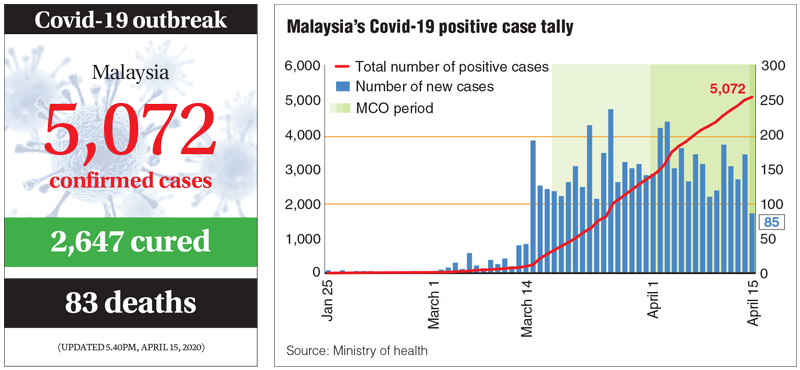 Click / Tap image to enlarge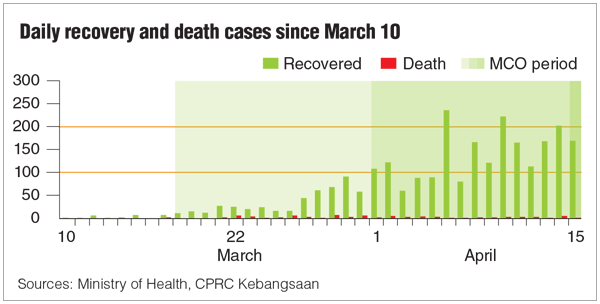 NEWS: MoH's next target after tabligh cluster
KUALA LUMPUR (April 15): Malaysia reported 85 new daily cases of Covid-19 today — the lowest daily figure after 28 days into the imposition of the Movement Control Order (MCO) — bringing the tally to 5,072 cases.
This is the first time Malaysia has reported a daily figure that is less than 100 infections since March 15, with 41 cases. The next day, daily infections quadrupled to 190 cases.
According to the Health Ministry, the number of daily recoveries was double the number of daily infections, with 169 cases.
This brings the recovery rate in Malaysia to 2,647 cases or 52.2% of the country's total infections.
This means that there are 2,342 active cases in Malaysia, all of whom are undergoing treatment.
Health director-general Datuk Dr Noor Hisham Abdullah said in a statement that to date, 56 positive cases are being treated in intensive care, with 32 of them needing respiratory assistance.
One more death was reported, bringing the death toll to 83 cases.
The deceased was a 69-year-old Malaysian man who had diabetes and high blood pressure.
He died at 6.41am today while undergoing treatment at University Malaya Medical Centre.
Selangor remains the state with the highest number of confirmed infections with 1,316 cases, followed by Kuala Lumpur (926), Johor (601) and Sarawak (371).
Meanwhile, total red zones in Malaysia have increased to 27 with the addition of Muar, Johor yesterday.
As of yesterday, Muar had recorded 44 cases, while Lembah Pantai in Kuala Lumpur continues to lead with the highest number of confirmed infections with 572 cases.
Read also:
Covid-19: Muar is now the fourth red zone in Johor, with 44 cases
Covid-19: Number of infections in Lembah Pantai now at 572, surpasses Taiwan, Vietnam and Brunei
Photo Gallery: ALL LOCKED UP
#dudukrumahdiamdiam. We will deliver the news to you at theedgemarkets.com.