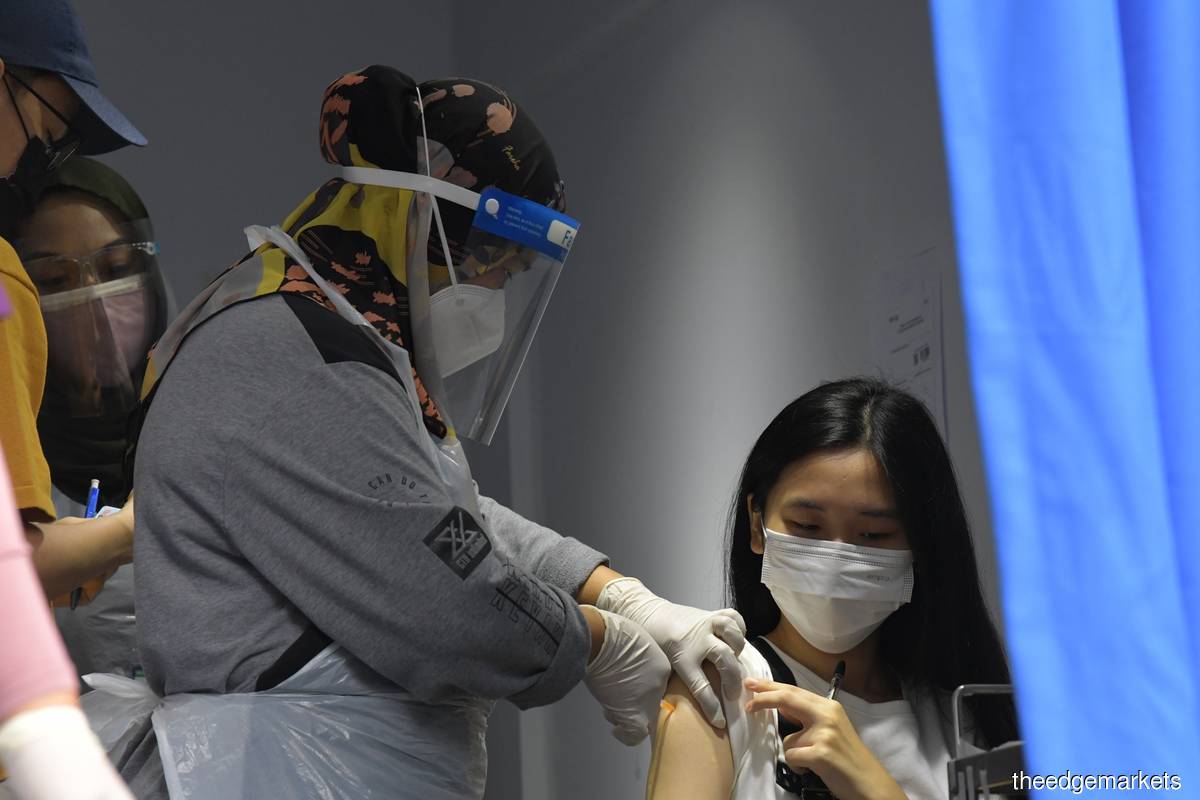 KUALA LUMPUR (July 27): Malaysia's daily number of administered Covid-19 vaccines hit a record high of 521,923 doses yesterday (July 26), compared with 399,135 the day before.
The previous record daily number of administered vaccine doses was 507,050 on July 22.
Of the 521,923 shots given out yesterday, 333,621 went to first-dose recipients, while the remainder were second shots, according to the latest updates from the country's Special Committee for Ensuring Access to Covid-19 Vaccine Supply (JKJAV), citing data from the Covid-19 Immunisation Task Force (CITF).
The seven-day moving average of Covid-19 vaccine doses administered stood at 436,248, compared with 422,392 the day before.
Selangor recorded the highest number of first doses administered yesterday at 83,100, followed by Kuala Lumpur (51,136) and Johor (41,719).
As for second shots, Selangor also led with 47,087, followed by Kuala Lumpur (34,511) and Sarawak (30,568).
Follow our Covid-19 vaccination tracker to see where we are in the race to herd immunity.
Cumulatively, 17.84 million vaccine doses had been administered in the country as of yesterday. Of the 32.72 million Malaysian population, 12.13 million people or 37.07% had gotten at least their first dose, including 5.7 million or 17.45% who had been fully inoculated.
Yesterday, Prime Minister Tan Sri Muhyiddin Yassin said the National Covid-19 Immunisation Programme (PICK) will be further intensified to achieve the target of 100% of Malaysian adults fully inoculated by October, compared to the original plan of 80% of adults being fully vaccinated by the first quarter of 2022 (1Q22).
The premier added that the government had ordered 79.9 million vaccine doses, of which 25.2 million had been received.
According to Muhyiddin, the country is expected to receive a total of 37.3 million vaccine doses in August, while another 21.9 million will arrive in 4Q21, followed by the remainder in 1Q22.
Meanwhile, Malaysia's new Covid-19 infections fell to 14,516 yesterday from 17,045 the day before. The number of active cases stood at 165,840.
A record high of 207 Covid-19 related fatalities was reported yesterday, bringing the country's cumulative death toll past the 8,000 mark to 8,201.
Cumulative confirmed Covid-19 infections increased to 1.02 million versus 855,913 total recoveries.