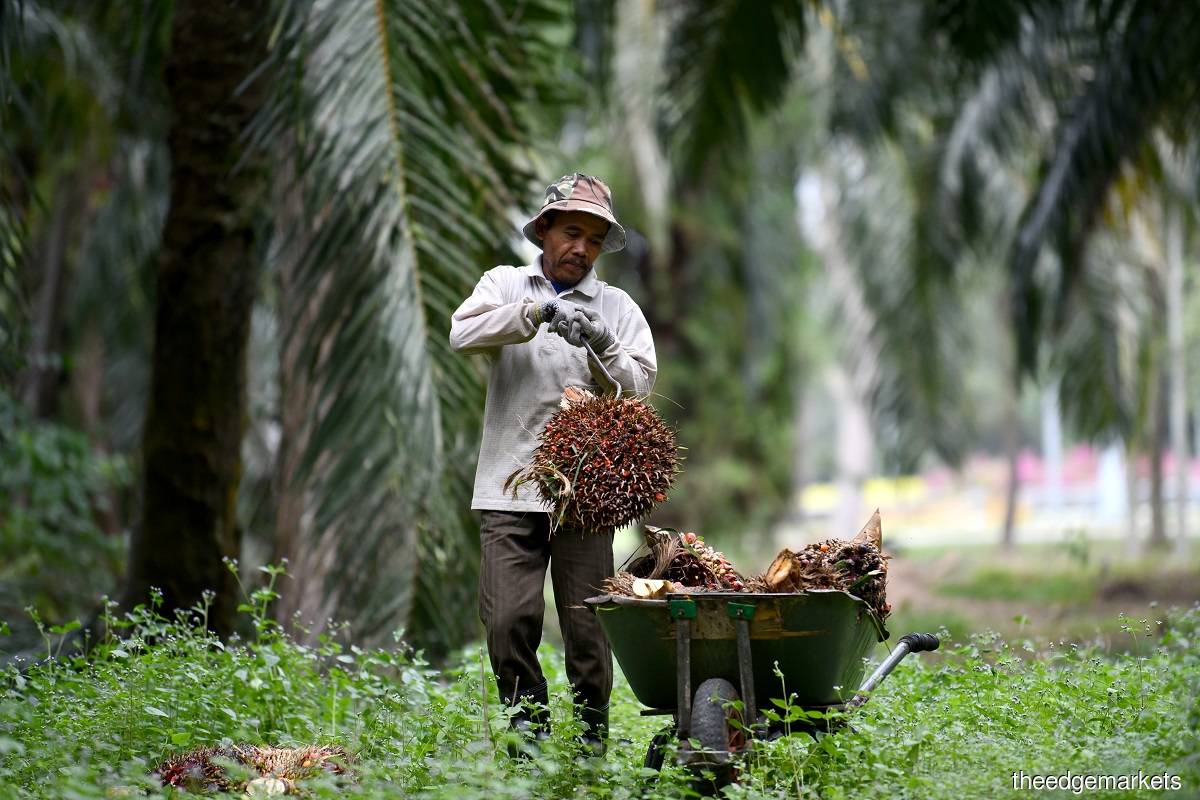 KUALA LUMPUR (April 12): The US Department of Agriculture (USDA) expects Malaysian crude palm oil (CPO) production to rise 245,000 metric tons (MT) year-on-year to 19.5 million MT in the marketing year ending Sept 30, 2021 (MY2020/21).
In its annual oilseeds and production report on April 6, the government agency noted that while 19.5 million MT would be an increase from the year before, it would be 100,000 MT lower than the USDA's official estimate for MY2020/21.
Its estimate is based on low collection of fresh fruit bunches (FFB) due to an acute shortage of manual labour, resulting from Covid-19 related border closures. 
"While industry expects favourable weather throughout MY2020/21, as well as stable fertiliser prices, which will result in high FFB production in the third and fourth quarters of MY2020/21, the shortage of labour to harvest the fruits will hamper the production of CPO," it noted.
The report forecasted that in MY2021/22 CPO production will increase to 20 million MT, based on an assumption that the industry will be able to recruit new labourers by end-2021, as international borders reopen.
Meanwhile, domestic CPO consumption is expected to be 3.475 million MT, down from the USDA's MY2019/20 and MY2020/21 official numbers, due to effects of Covid-19, specifically government-imposed movement controls and, as a result, fewer commercial vehicles transporting goods.
The USDA also added that the Malaysian government had backtracked on its decision to implement a 20% biodiesel (B20) mandate in 2020, revising the implementation date to end-2021.
"Industry remains doubtful the implementation will occur on the new schedule, given the current high price of CPO, which is expected to last until the end of 2021, and the high government deficit due to increased spending — the same factors that stymied the roll-out of the B20 mandate in 2020. Some sources are referencing mid-2022 as a realistic time frame.
"Currently, the GOM (government of Malaysia) pays a subsidy of US$0.007 per litre of biodiesel produced for domestic commercial vehicle usage. Although the GOM increased the cess tax on CPO from RM14 to RM16 per MT in February, the additional revenue is not channelled into the roll-out of the B20 mandate," it noted.
For MY2021/22, domestic consumption is expected to increase to 3.59 million tonnes, following the reopening of the economy, as well as on the assumption that the roll-out of the B20 mandate will occur by the middle of 2022.
CPO exports are expected to be at 17.45 million tonnes in MY2020/21, an increase of over 200,000 MT compared to the previous year, following greater demand from India and China as the two economic giants replenish their depleting stocks.
Specifically in China, the industry attributes the resurgence of the African swine fever (ASF) as supporting CPO exports.
"Much as in the ASF pandemic in 2019/20, as soybean crushing falls, soy oil production also drops, leading to a deficit in domestic vegetable oil production that industry fills with CPO," it noted.
India is expected to import more Malaysian palm oil due to its price competitiveness. As of March 2021, the prices of sunflower oil and soybean oil had surged 28% and 29% respectively, while the price of palm oil increased by only 7%.
For MY2021/22, exports are expected to be at 17.5 million MT on increased production and a recovery in global demand following the Covid-19 pandemic.
Read also:
Malaysia's March CPO output rises m-o-m for first time in six months
Govt to focus on selling palm oil to East and West Asian countries, says deputy minister
HLIB Research: CPO prices to remain above RM3,500 per tonne in 2Q, trend down 'more noticeably' from 2H21