This article first appeared in The Edge Financial Daily, on April 6, 2020.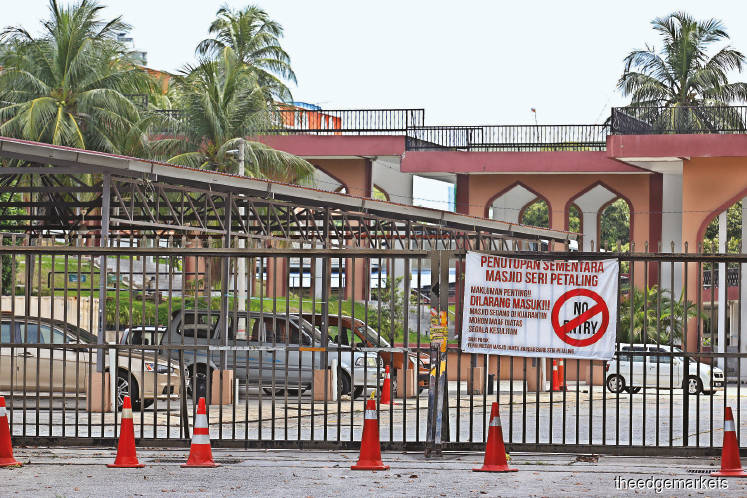 Filepic of the Seri Petaling Jamek Mosque where the tabligh gathering took place between Feb 27 and March 1. (Photo by Sam Fong)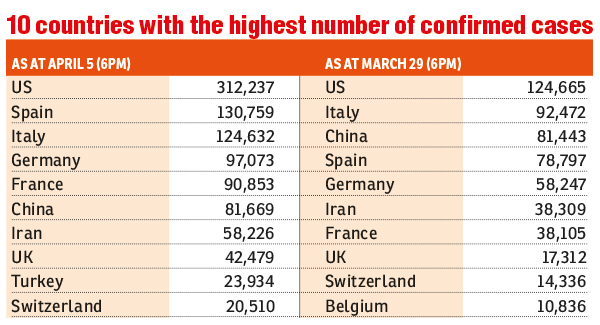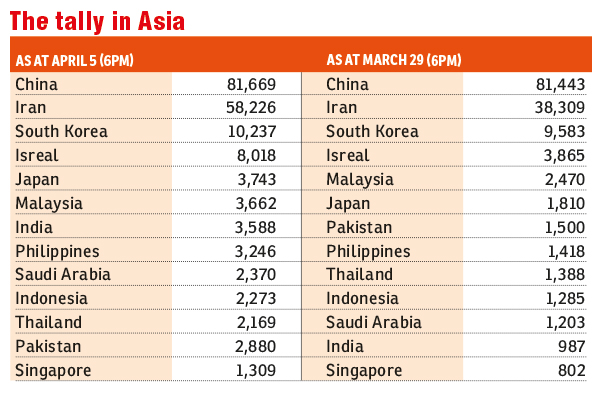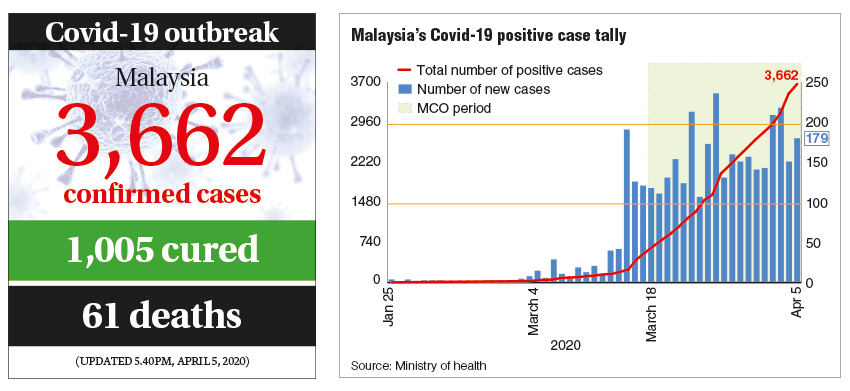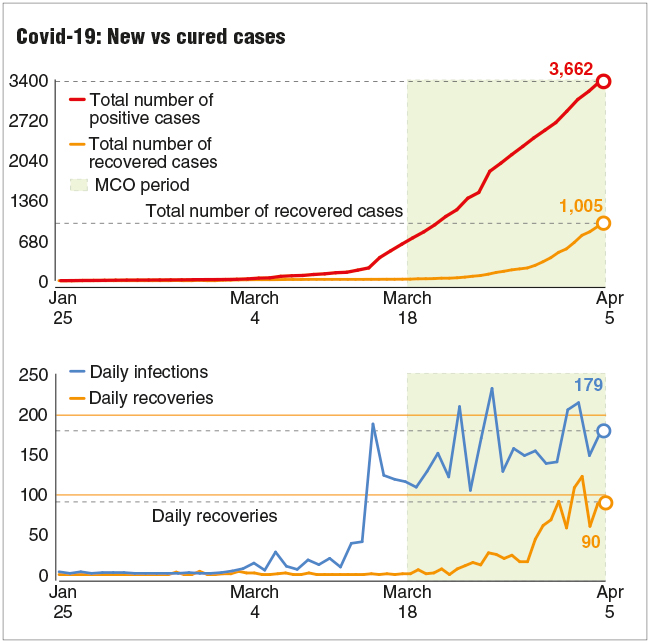 KUALA LUMPUR: Another 179 new Covid-19 cases were reported in Malaysia yesterday, bringing the total to 3,662. Of these, 46 were traced to the tabligh gathering that took place at the Seri Petaling Jamek Mosque between Feb 27 and March 1.
Since the movement control order (MCO) was enforced on March 18, the total number of cases has risen more than fivefold from 673 cases at the time. Over the past week, 1,192 new positive cases have been recorded.
There were four new deaths, all of them aged 50 years and above, raising the country's death toll to 61 or 1.67% of the total confirmed Covid-19 cases. This compares with the global Covid-19 death rate of 5.4%. Over the past week, 26 new deaths were recorded in Malaysia.
Meanwhile, 90 patients were discharged yesterday, raising the number of recovered cases in Malaysia to 1,005 or 27.4% of the total. This is a significant increase over the 388 recovered cases reported as of last week. In comparison, 253,670 patients have recovered globally, accounting for 20.9% of the total number of cases reported worldwide.
Currently, 99 patients are being treated in intensive care units, with 48 of them requiring respiratory assistance.
Speaking at the daily media update on the Covid-19 outbreak in Putrajaya yesterday, Health director-general Datuk Dr Noor Hisham Abdullah said the health authorities have screened 17,012 attendees of the tabligh assembly in Seri Petaling.
So far, 1,591 positive cases related to the Seri Petaling tabligh cluster have been recorded, while 10,912 have tested negative. The results for another 4,500 samples are still pending.
"Nonetheless, we would like to take this opportunity to thank the syura council of the tabligh group that has given us full cooperation in terms of localising their members as well as advising their members to come forward for testing," said Noor Hisham.
"We also learnt that some of the tabligh group members are still overseas, for example in India, Indonesia and Pakistan. So they have not returned yet ... when they are back, we need to work with the police again as well as the immigration department to make sure that they come forward for the testing," he added.
As for the four new deaths, Noor Hisham said the first involved a 72-year-old man who had a history of diabetes and high blood pressure. He contracted the virus through direct contact with patient No 1,031 and had been treated at Sarawak General Hospital in Kuching from March 27 until he passed away yesterday.
Another death was also recorded at Sarawak General Hospital yesterday involving a 53-year-old man.
Next was a 68-year-old man who also had a history of diabetes. He passed away yesterday at Hospital Kuala Lumpur.
The nation's 61st death involved a 66-year-old man with a history of diabetes, high blood pressure and kidney disease. He had been treated at Hospital Keningau in Sabah from March 26 until he passed away last night.
"The ministry of health extends its condolences to the families of the deceased," Noor Hisham said.
In terms of areas, Lembah Pantai in Kuala Lumpur remains as the red zone area with the highest number of infections in Malaysia, followed by Petaling and Hulu Langat, both in Selangor.
On Saturday, the authorities added two new areas — Jerantut in Pahang and Batu Pahat in Johor — into the red zone category, namely areas with more than 40 positive cases.
With the additional two, there are now 17 red zone areas, seven of which are in the Klang Valley. Other red zone areas include Seremban, Johor Baru, Kluang, Kepong, Klang, Titiwangsa, Kota Baru, Kinta, Gombak and Hilir Perak. There are also two red zone areas in East Malaysia, which are Kuching and Tawau.
At the time of writing, the number of Covid-19 cases in the US — the country leading the world in the total number of cases — has exceeded 312,000, while the death toll has passed 8,500.
In Italy, the death toll rose to 15,362, while Spanish Prime Minister Pedro Sanchez has announced that his country would extend the Covid-19 lockdown until April 25, as the death toll soared to 11,947.
Globally, the death toll has surged past 64,000 from over 1.2 million cases. Malaysia has the 28th -highest number of cases worldwide, and the most in Southeast Asia.
Since first being recorded late last year in China, the Covid-19 has spread to more than 180 countries and was declared a pandemic by the World Health Organization on March 11. By then, Europe had become the worst-affected region, with Italy and Spain particularly hard hit.