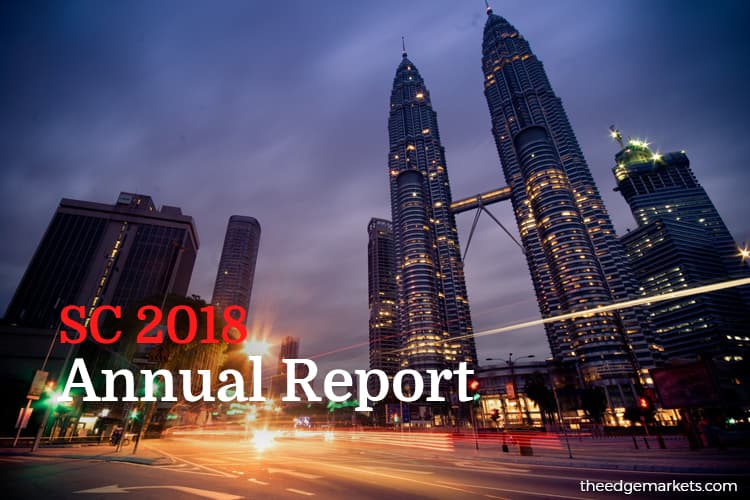 KUALA LUMPUR (March 14): Total assets under management (AUM) of licenced fund management companies (FMCs) in Malaysia fell 4.21% to RM743.58 billion in 2018 from RM776.23 billion in 2017, according to the Securities Commission Malaysia (SC).
In its 2018 Annual Report released today, the regulator said the source of funds under management were largely from unit trust funds (RM426.18 billion), Employees Provident Fund (RM112.13 billion), corporate bodies (RM73.11 billion) and wholesale funds (RM64.95 billion).
Meanwhile, the SC said in 2018, unit trust funds continued to be the largest component of the Malaysian collective investment schemes industry with a total net asset value (NAV) of RM426.18 billion recorded as at Dec 31, 2018 compared with RM426.98 billion in 2017.
It said that total NAV of unit trust funds accounted for 25.06% of Bursa Malaysia's market capitalisation, as at Dec 31, 2018, compared with 22.39 per cent in 2017; while 37 locally-incorporated management companies were approved to offer unit trust funds in 2018.
"The unit trust fund industry recorded a total gross sales value of RM204.97 billion, with unit trust management companies being the major distributors with sales amounting to RM87.57 billion in 2018," it said.
As at Dec 31, 2018, the SC said there were 650 unit trust funds available to investors from 644 in 2017, of which 426 funds were conventional unit trust funds (431 in 2017) while the remaining 224 were Shariah-compliant unit trust funds (213 in 2017). 
On the real estate investment trusts (REITs) segment, the regulator said there were 18 REITs listed on Bursa Malaysia's main market, with a total market capitalisation (including a stapled group) of RM41.43 billion at end-2018 from RM46.48 billion a year ago.
In terms of Private Retirement Scheme funds, the SC said they remained unchanged with 12 schemes comprising 56 funds, as at Dec 31, 2018, of which 31 were conventional funds while 25 were shariah-compliant funds. 
"The total industry NAV of RM2.68 billion, as at end-2018, rose 20.18 per cent from RM2.23 billion in 2017," it said.
On structure warrants, the SC said 1,037 term sheets for the offering of structured warrants were registered in 2018 from 925 registered in 2017, attributable to the active issuance by issuers in meeting investor interest during the year.
On structured products, the regulator said there were 16 issuers which lodged 21 new structured product programmes with the SC under the Lodge and Launch Framework for unlisted capital market products in 2018. 
"These programmes comprised a variety of underlying references and had an aggregate size of RM100.05 billion (RM100 billion in 2017), with each programme having a size limit of up to RM5.0 billion," it added. — Bernama