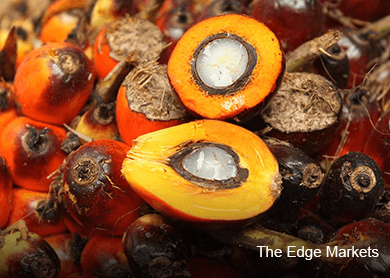 KUALA LUMPUR (May 11): Malaysia's palm oil inventory rose 17.59% to 2.19 million tonnes in April from a month earlier amid higher output and lower exports.
In a statement today, the Malaysian Palm Oil Board said palm oil inventory, comprising crude palm oil (CPO) and processed palm oil, rose as CPO production increased 13.26% to 1.69 million tonnes. Palm oil exports, however, fell 0.59% to 1.175 million tonnes.
In March, palm oil inventory rose 7.03% from the preceding month (February) while CPO output climbed 33.3%. Palm oil exports increased 21.54%.
April inventory and production growth had surpassed market estimates, based on a Reuters' survey.
Earlier, Reuters reported that the median forecast from six planters, traders and analysts suggested Malaysia's palm inventories rose 14.3% from March to 2.13 million tonnes in April, bringing them to their loftiest level since November.
The poll forecast crude palm oil output in April rose 11.5% to 1.67 million tonnes, overtaking export shipments, which were forecast to be 1.22 million tonnes, up just 3.3% from March.
The rise in stockpiles was largely due to another month of bumper yields, analysts and planters said, led by a strong recovery in fruit bunch production in Sabah, Malaysia's largest palm-growing state.
"No doubt, the harvest is fantastic in April as we are just stepping into the rising curve of the high-production season," said Hiro Chai of CIMB Futures in Malaysia.