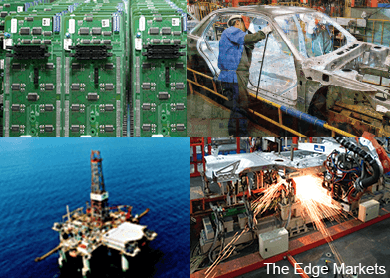 KUALA LUMPUR (June 5): Malaysian exports fell 8.8% to RM60.4 billion in April from a year earlier mainly on lower sales of commodity-based products. Commodity-based exports fell amid lower prices of crude oil, palm oil and natural rubber.
According to the Statistics Department's statement today, the country's exports also fell on lower electrical and electronic (E&E) product sales.
The department said the nation registered lower exports of refined petroleum products, liquefied natural gas and crude oil.
"Refined petroleum products, which accounted for 4.5% of total exports, fell RM2.5 billion or 48.2% to RM2.7 billion due to the decrease in both export volume (-31.3%) and average unit value (-24.6%).
"Liquefied natural gas (LNG), which contributed 5.3% to total exports, dropped 40.1% or RM2.1 billion to RM3.2 billion as a result of both lower average unit value (-31.0%) and export volume (-13.3%)," the department said.
Palm oil-based exports declined 16.1% while natural rubber sales dropped 38.3%. E&E product exports fell 3%.
Similarly, the country's imports recorded a 7% decrease to RM53.5 billion as a result of lower intermediate and capital goods purchases.
The April export and import numbers translated into a trade surplus of RM6.9 billion, a 21.2% drop from a year earlier.
The April exports decline quantum had come in higher than expected. According to an analysts' poll by Reuters, exports were forecasted to decline 6.2% from a year earlier while imports were expected to be flat.
Reuters reported that April's imports declined from a year earlier as consumer spending weakened after the implementation of a 6% goods and services tax (GST) on April 1. Imports were strong in the first quarter as consumers made big ticket purchases prior to the GST.