This article first appeared in The Edge Malaysia Weekly, on November 18, 2019 - November 24, 2019.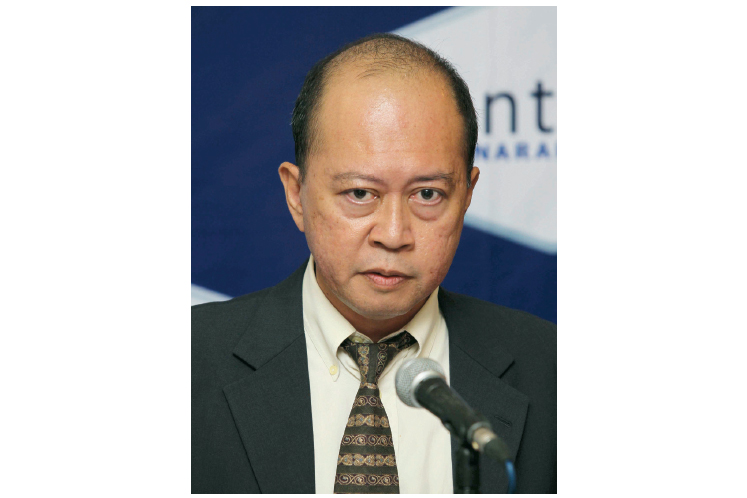 Shukor: CAAM was rightly penalised for its deficiencies but ... both the MoT and the Prime Minister's Office must be held accountable
Photo by Patrick Goh/The Edge
THE Civil Aviation Authority of Malaysia (CAAM) has sought to allay concerns over the recent US downgrade of its safety rating, saying it was purely on its regulatory oversight function. But aviation experts expect the ratings drop to have an impact on the image of the country, as well as on Malaysian air carriers, if other aviation authorities follow suit.
The US Federal Aviation Administration's (FAA) downgrade of Malaysia's technical regulator from a Category 1 to a Category 2 rating has claimed its first casualty in Malaysia Airlines Bhd, with American Airlines ending their code-share arrangements last Friday.
This is a further setback for the national carrier, which is already facing a challenging operating environment and making losses.
Malaysia Airlines tells The Edge that it is expecting some loss of revenue from the FAA downgrade. However, it says it is still too early to estimate the full impact as the airline is now subject to its partner airlines' own assessment/consideration.
On its code-share agreement with American Airlines, the national carrier clarifies that the pact has turned into a unilateral one under which Malaysia Airlines will still place its marketing code (MH) on applicable American Airlines sectors. However, American Airlines has removed its marketing code (AA) from all applicable Malaysia Airlines sectors.
"Malaysia Airlines passengers can still book and fly to the US on code-share flights operated by American Airlines without any disruption," it says, noting that the US cities are Atlanta, Boston, Washington, DC, Houston, Minneapolis, Portland, Seattle, San Francisco, Las Vegas and San Diego, via the Los Angeles, New York, Chicago, Dallas and Miami.
Apart from American Airlines, Malaysia Airlines has code-shares to/from the US with other oneworld partner airlines such as Qatar Airways, Japan Airlines and Cathay Pacific.
Still, the national carrier acknowledges that passengers may be concerned about the safety of Malaysian carriers since they fall under the purview of CAAM.
"However, the FAA has specifically stated that the audit was an assessment of the regulator and not airlines. Malaysia Airlines has been certified under the IATA Operational Safety Audit (IOSA) programme, a benchmark for global safety management in airlines, and it holds the approval of both the European Union Aviation Safety Agency (EASA) and FAA maintenance organisation," it says.
The downgrade has also affected AirAsia X Bhd (AAX), which is the only local airline flying directly to the US. While its flights to Honolulu via Osaka will continue to run as usual, the low-cost carrier will not be able to add new capacity on the existing route or open new routes to the US. As at press time, the carrier had yet to respond to The Edge's queries.
Malaysia Airports Holdings Bhd (MAHB) does not foresee a significant, immediate negative impact on its overall passenger traffic movements.
"While there may be some concerns over losses due to code-share flights, it should be noted that the current aviation landscape has multiple criss-crossed flights operated by many airlines and passengers are not short of connections from multiple carriers. As long as the demand for travel, including tourism attractiveness, exists or is enhanced for Visit Malaysia 2020, passengers will find alternative airlines to make it to the country," the airport operator tells The Edge.
MAHB also points out that the FAA downgrade is not a reflection on airport safety as the airport operator also has specific regulations that it adheres to based on international standards by the International Civil Aviation Organization (ICAO).
"However, Kuala Lumpur International Airport may increasingly become a feeder airport for long-haul travel if we do not attract more long-haul carriers into the country. MAHB's efforts to attract more long-haul carriers and increase the connectivity at KLIA will help to mitigate this potential setback.
"We are also fully committed to provide our full support to CAAM in its effort to bring the country back to Category 1 status in the next 24 months," it says.
On Nov 11, the FAA downgraded Malaysia to Category 2 after an audit on CAAM in April showed non-compliance with ICAO safety standards, and that it was deficient in one or more areas such as technical expertise, trained personnel, record-keeping, and/or inspection procedures.
The downgrade serves as a wake-up call for the government as CAAM is an agency under the purview of the Ministry of Transport (MoT). For the first time, CAAM admitted there were shortcomings in its structure and operations. At a press conference last Tuesday, officials took full responsibility for the slip in Malaysia's aviation safety rating. They say the downgrade does not mean that it would be unsafe to fly on Malaysia-based airlines or that the country's airports might lack safety standards; it merely means that CAAM as an aviation authority overseeing the sector is not up to the mark in the eyes of the FAA.
While CAAM officials express optimism that the country can regain Category 1 status within 12 months, it took Thailand two years to regain the Tier 1 certification after losing it in 2015. Thailand slipped into Category 2 status again in February this year.
Indonesia was upgraded to Category 1 after nearly a decade. The FAA downgraded its status to Category 2 in 2007, following a series of crashes involving Indonesian airlines, including Garuda. The FAA upgraded its aviation safety rating to Category 1 in 2016.
According to an aviation expert, it is not good for the image of the aviation industry in Malaysia if the technical regulator's competence is questioned. "It reflects on the government and the whole industry. CAAM can regain Tier 1 status if it fulfils FAA requirements to the latter's sole satisfaction. However, this may take about two to three years. A downgrade will not usually affect the operations of aviation players but it will affect the travelling public's perception," he adds.
Malaysia joins five other countries — Thailand, Bangladesh, Curaçao, Costa Rica and Ghana — that have been placed under Category 2 restrictions.
Shukor Yusof, founder of aviation advisory firm Endau Analytics, concurs, noting that while the focus of the downgrade is on CAAM, it is an opportune time for the government to take a step back and review the overall aviation climate in Malaysia.
"CAAM was rightly penalised for its deficiencies but the blame has to be shared collectively. Both the MoT and the Prime Minister's Office must be held accountable," he tells The Edge.
"The downgrade has everything to do with Malaysia's aviation safety. If the country's regulator is not up to the mark, how can we trust it to supervise other safety aspects of the complex aviation sector? If Malaysia continues to be in denial, more severe problems will crop up sooner rather than later.
"CAAM is modelled after the UK's Civil Aviation Authority but does not operate like the CAA," Shukor says, adding that Malaysia can probably take a leaf out of the Civil Aviation Authority of Singapore's book.
Malaysia's aviation authority was split into two entities in 2016. CAAM governs all aspects of technical and safety matters related to civil aviation in the country while the Malaysian Aviation Commission (Mavcom) regulates the economic and commercial matters of the industry.
"Clearly, the economic implications are worrying. The reputational risks will be more pervasive and could potentially be more serious," says Mavcom, adding that it will also commit to working with CAAM and the government to rectify the issues raised by the FAA.
Shukor says the ramifications are serious for Malaysia's aviation industry if the European, Japanese or Australian aviation authorities follow suit with safety downgrades and either limit or ban flights by Malaysian carriers to these countries, which would have a bigger impact on travellers.
It was reported that Thailand's downgrade to Category 2 in 2015 led to some Thai carriers being barred from starting services to China, South Korea and Japan, while all airlines were forced to undergo a re-certification process.
Mavcom tells The Edge that it is cognisant of the economic consequences of the FAA downgrade, which it says could include the risk of regulators from other jurisdictions losing confidence in the air operator's certificate (AOC) issued by CAAM. "If this occurs, these regulators may conduct audits on Malaysia-registered carriers. This could be dependent on their bilateral relationship with Malaysia and the FAA."
In the event the other regulators require the operations of Malaysian air carriers in their respective territories to be audited, Mavcom says this will place the carriers in difficulty as flights into the said countries by Malaysia-based carriers may be limited.
"If there are any audit issues pertaining to the AOC issued by CAAM, the concerned Malaysian carrier may be barred from initiating new operations into that country," Mavcom says.
A possible lack of confidence in pilot training and aircraft certification in Malaysia may also impact pilots trained here and the local maintenance, repair and overhaul (MRO) industry, it adds. "It is also possible that we may face a bottleneck for approvals that involve the FAA in relation to MRO, such as aircraft parts from the US. The additional cost of doing business in Malaysia due to increased expenses relating to regulatory compliance may also make the country less attractive to industry players."
Another repercussion is that CAAM would not be able to re-register any aircraft from US registration to Malaysian registration. "This would have a negative impact on business jet operations, particularly in Subang," says Mavcom. "We should also brace ourselves for negative ratings from investors of companies providing aviation-related services."