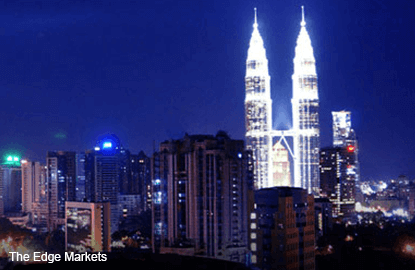 KUALA LUMPUR (Nov 13): Malaysia's economy, as measured by the gross domestic product (GDP), expanded 4.7% in the third quarter (3Q) from a year earlier, helped by export and domestic private sector demand growth.
 
In a statement today, Bank Negara Malaysia said net exports grew 3.3%, compared with a 10.5% contraction previously. Domestic private sector demand rose 4.4%.
"The private sector continued to be the key driver of growth during the quarter. On the supply side, all economic sectors continued to expand during the quarter," Bank Negara said.
On the supply side, the services and manufacturing sectors grew 4.4% and 4.8% respectively, while agriculture and mining segments expanded 2.4% and 5.3% respectively. The construction industry grew 9.9%.
In quarterly terms, 3Q GDP rose 0.7% from the preceding second quarter.
The Statistics Department said in a separate statement that cumulative 9M GDP grew 5.1% from a year earlier.
The department had also elaborated on the 3Q supply side on-year growth.
 
"The better performance in the manufacturing sector was underpinned by electrical, electronic and optical products, particularly in the manufacture of consumer electronics, printed circuit boards and computer peripheral equipment.
"Mining and quarrying sector which accounted for 8.3% of Malaysia's economy, eased to 5.3% (Q2 2015: 6.0%). The moderation was largely due to the lower production of crude oil, despite a rebound in production of natural gas and condensate," the department said.
Malaysia's 3Q GDP's 4.7% on-year growth compares to the 4.9% expansion in its 2Q.