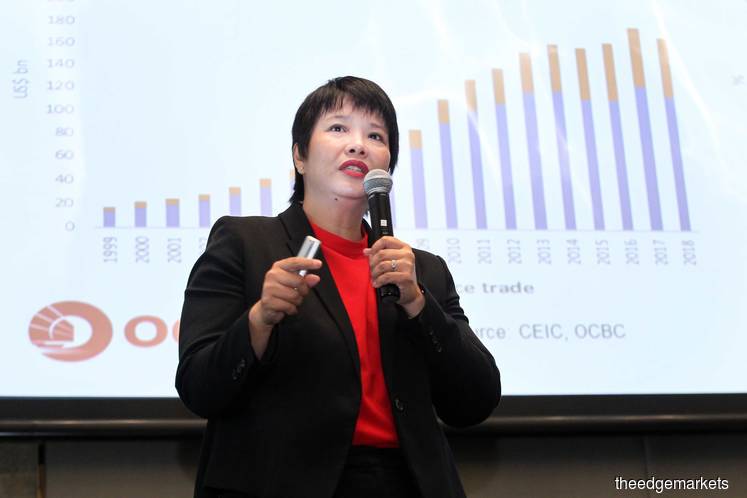 KUALA LUMPUR (Jan 15): Malaysia's gross domestic product (GDP) growth target of 4.8% for 2020 might be challenging to achieve, according to OCBC Bank, which holds a forecast in the lower 4% range.
Speaking at a press conference today, OCBC chief economist cum head of treasury research and strategy Selena Ling (pictured) highlighted that she remains cautious on Malaysia's growth prospects, mainly in view of external uncertainties.
"Actually, we are a little cautious. I would say that the biggest challenge to [achieving that] GDP target is still the external environment.
"We think that [hitting] 4.8% is a little bit challenging because it would assume that everything falls into place nicely," she told reporters after presenting her 2020 economic outlook here today.
According to Ling, this includes the de-escalation and stabilisation of US-China trade tensions for the rest of the year, which would then allow global growth the chance to recover, in particular in the manufacturing and trade aspects.
Furthermore, it will also take into account that there will be no drastic measures taken by China in countering US pressures, which would help shape a more stable and calm market environment for the rest of Asia throughout 2020.
"If any of these jigsaw puzzles doesn't fall into place, then there is a risk of slippage, and that is probably true not just for Malaysia per se, it is true for any other Asean countries.
"Our house forecast for Malaysia's GDP growth this year is around 4.2% to 4.4%," Ling explained.
"Consumption did so much of the heavy lifting last year in terms of driving growth. If the domestic consumer sentiment is on a softening path, then the likelihood that the growth may not be as strong as what it was in the past.
"And even for the liquidity and investments that are coming in, these are very sentiment-driven… Only in an environment when things are a little bit calmer, then investors will start looking for the higher yielding [markets]," she added.
Nonetheless, the economist pointed out several signs of support for the Malaysian economy.
She said while the latest exports print of November 2019 was a bit of a let-down at a 5.5% year-on-year contraction, versus market expectation of a flat growth, there is hope that with the détente between the US and China on trade conflicts, global trade flows may pick up in 2020 and help Malaysia's exporters.
Also, after months of languishing in contractionary territory, Malaysia's manufacturing sector Purchasing Managers' Index has finally broken even, printing at a 50-flat level for the December 2019 reading.
Ling said if the improvement sustains itself, this should bode well for Malaysia's exports sector overall.
Read more:
Govt maintains 4.8% GDP target for 2020 — Lim
Malaysian exports to recover in 2020
U.S.-China trade deal fully enforceable, documents to be released Wednesday-Mnuchin