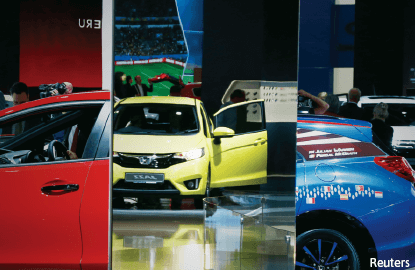 PETALING JAYA (Jan 21): Malaysia's automotive industry recorded higher total industry volume (TIV) at 666,674 units for 2015, on higher fourth quarter sales, the Malaysian Automotive Association (MAA) said.
MAA president Datuk Aishah Ahmad said 2015 TIV rose from 655,793 units in 2014.
New vehicles production increased to 614,664 units, from 596,418 units in 2014, according to Aishah.
She said 2015 TIV growth was attributed to factors like a "stable economy and employment rate, sales increase in the fourth quarter, following normalisation in the implementation of the goods and services Tax, agressive sales campaign, new offers and schemes for car buyers and introduction of new models."
Aishah said this at a media briefing here today on the Malaysian automotive industry's review and outlook.
For 2016, Aishah said MAA had a lower TIV forecast at 650,000 units. She said the forecast was in tandem with global economic uncertainties, amid declining crude oil prices and a weaker ringgit.
Against a more challenging industry backdrop, Aishah said new vehicle model launches at competitive pricing under automotive companies' aggressive promotion campaigns, could support TIV this year.