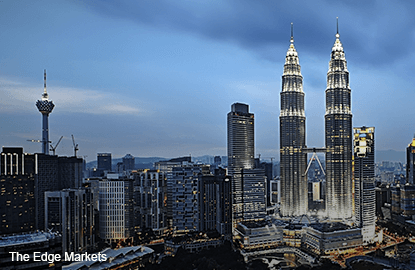 KUALA LUMPUR (Feb 18): Malaysia's economy, as measured by gross domestic product (GDP), expanded 4.5% year-on-year (y-o-y) in the fourth quarter (4Q) of 2015, supported by private sector demand and growth in crucial domestic sectors.
According to statements by Bank Negara Malaysia and the Statistics Department today, full-year GDP grew 5% after expanding 6% in 2014.
On a quarterly basis, 4Q GDP increased 1.5% from the preceding 3Q.
During the 4Q, Bank Negara said private consumption grew 4.9% from a year earlier while private investment expanded 5%.
"Despite the challenging economic environment during the quarter, the private sector continued to be the key driver of growth," Bank Negara said.
On the supply side, the Statistics Department said the services and manufacturing sectors each expanded 5% y-o-y. The construction industry grew 7.4%.
"The performance of services sector was underpinned by wholesale and retail trade which advanced to 6.5%.
"As the key driver in manufacturing, electrical, electronic and optical products posted a sturdy growth at 10.5% reflecting a higher momentum in consumer electronics and medical equipment products. Non-metallic mineral products, basic metal and fabricated metal products rose to 4.7% in line with an expansion in construction sector," the department said.
Bank Negara expects the country's economy to contend with a challenging backdrop in the immediate future.
The central bank said downside risks to growth would remain amid uncertainty in the external environment and ongoing reforms in the domestic economy.
"The Malaysian economy is expected to face a challenging operating environment in the immediate future. Growth will continue to be driven by domestic demand, with some support from net exports.
"Nevertheless, the pace of domestic demand expansion is projected to moderate. While the growth in income and employment continues to support private consumption, it is expected to moderate as households continue to adjust to the higher cost of living," Bank Negara said.