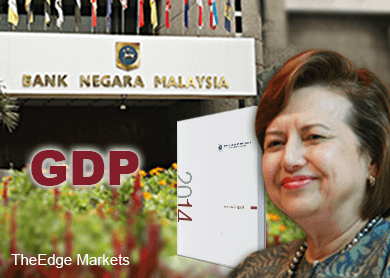 KUALA LUMPUR (Mar 11): Malaysia's economic growth is seen moderating to between 4.5% and 5.5% this year mainly on domestic demand as crucial domestic sectors continue to expand amid weaker exports, according to Bank Negara Malaysia's latest annual report.
The central bank said domestic demand was seen growing at 6%, driven by private sector spending which was anticipated to stay resilient amid improvement in public expenditure growth.
"Private consumption is forecasted to record a more moderate growth during the year, after registering five consecutive years of above-average growth rates since the financial crisis in the advanced economies.
"While household spending is expected to be affected by the implementation of the Goods and Services Tax (GST) in April and lower earnings in the commodity-related sectors, its impact will, however, be partially offset by Government measures to assist targeted groups, the additional disposable incomes from lower fuel prices and the favourable labour market conditions," Bank Negara said.
On the supply side, Bank Negara said all crucial domestic sectors were expected to register growth. These sectors comprise the services, manufacturing, mining and quarrying, agriculture and construction industries.
Bank Negara's 4.5% to 5.5% GDP growth forecast in 2015 compares with the 6% growth in 2014.
In 2015, export growth is seen weaker. According to Bank Negara, export growth is estimated at 3% versus the 5.1% expansion in 2014.
The central bank said the slower export growth projection took into account lower commodity prices and major economies' weaker economic expansion outlook.
"(Malaysia's) Export growth is projected to be lower due to the low commodity prices. At the same time, uncertainties regarding the strength of global economic outlook and the sharp decline in the global oil prices have raised concerns on the country's fiscal and balance of payments positions.
"Beyond the sharp decline in commodity prices, the growth momentum in several major economies is also weaker than earlier expectations. Different growth momentums could lead to divergent monetary policy stances in the major economies, precipitating volatility in capital flows," Bank Negara said.