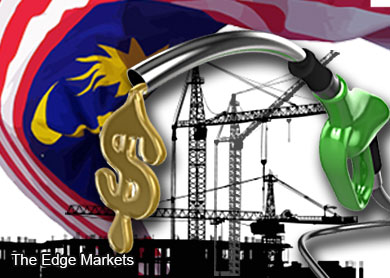 KUALA LUMPUR (Nov 24): The Malaysian government's fiscal deficit is not expected to rise this year despite the drop in global crude oil prices, said Deputy Finance Minister II Datuk Chua Tee Yong.
Crude oil forms a substantial income source for net oil exporter Malaysia.
Chua said fiscal deficit was not expected to increase especially for 2014 because the average oil price from January to October was US$108 (RM361). The level was close to the government's budgeted price of US$110.
"There are some concerns especially over the cost of living and commodity prices," Chua told reporters after opening the Asian Strategy & Leadership Institute's 19th Malaysian Capital Market Summit today.
Reuters reported that Brent crude oil was traded at US$80.43 a barrel today while US crude oil changed hands at around US$76.50 a barrel.
Since June, oil has lost about 30% of its value, with Brent plunging from a high above US$115 and US crude falling from above US$107.
On whether national oil company Petroliam Nasional Bhd's (Petronas) contribution to the government will be reduced, Chua said that was something which had to be determined by Petronas.
Petronas, via its dividends, is a substantial contributor to the government's revenue.
"Petronas has a policy to give the government a dividend of some RM28 billion....but we don't expect a huge shortfall since the oil price has not fallen far from what we have budgeted for," Chua said.
Meanwhile, on the multi-tier fuel subsidy mechanism that has been proposed by the government, Chua said there was still no final decision on the structure of the mechanism .
However, Chua said the managed float system for RON95 petrol, and diesel prices would supersede the implementation of the multi-tiered mechanism for the time being,
"The floating of the price enables the rakyat to enjoy the current downtrend of oil prices, which is why the government recently announced the float.
"If we don't do it at this price level, then the government would invariably end up taxing petrol and this is not what we hope to achieve," he said.
He also said should crude oil prices trend upwards again, the government would look into measures to ensure the middle to low income segments were not unnecessarily burdened.