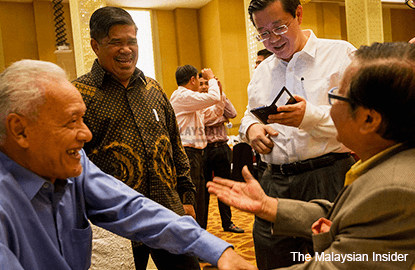 KUALA LUMPUR: Malaysian Workers Party members have approved the change of its name to Parti Amanah Negara (Amanah) in an extraordinary general meeting (EGM) on Tuesday, which also okayed the change of its logo and flag.
Amanah secretary-general Anuar Tahir said the new logo and flag would be unveiled at its official launch on Sept 16.
Tuesday's EGM was the party's second after August. In the August EGM, members agreed to replace the current leadership line-up with that from Gerakan Harapan Baru (GHB or New Hope Movement).
Anuar, who was previously involved in setting up Parti Keadilan Nasional (PKN), the predecessor of PKR, gave a rundown on how they took over the party.
"When we tried to find a new political vehicle, we found the Workers Party which was set up in 1978, and one of its leaders contested in Sungai Besi in a general election.
"We met with its secretary-general, Gopalan K Papachan. He is a very dynamic person. 
"After listening to us, he was willing to hand over the party to us because he believes we will continue with its struggles for the people," he said.
Anuar said Gopalan would be part of Amanah to ensure continuity.
Before this, Anuar was involved in the setting up of PKN, which originated from another party named Parti Ikatan Masyarakat Muslim Malaysia under the leadership of Abdul Wahad Yunos.
Anuar said the Workers Party would be taken over without any conditions from its original owners, and without paying a single sen.
Previously, Deputy Home Minister Datuk Nur Jazlan Mohamed said the Workers Party could not be rebranded as Amanah because it fought for workers' rights instead of being a political party.
As such, he said GHB could not use the name Amanah officially as long as the party's constitution remained unchanged and without the green light from the Registrar of Societies (RoS).
Anuar said the EGM was held based on Nur Jazlan's advice.
"We have done the EGM and changed the structure of the party, and hand over the application to the RoS which will take place simultaneously during the launch," said the former Perlis PAS deputy commissioner.
"I hope they will accept our application, and we believe the RoS officials are civil servants who discharge their duties in accordance with the laws."
Amanah expects about 2,000 delegates and observers at its launch at IDCC Shah Alam next Wednesday. — The Malaysian Insider
This article first appeared in digitaledge Daily, on September 10, 2015.