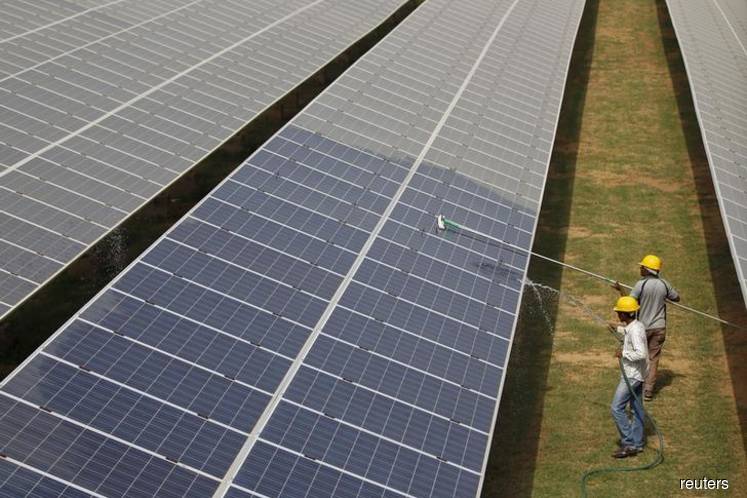 KUALA LUMPUR (April 5): Malaysian government officials will be meeting with their US counterpart to negotiate the 30% tariff imposed on all imported solar panels later this month, the Dewan Rakyat was told today.
International Trade and Industry Minister Datuk Seri Mustapa Mohamed said he has also requested for Malaysia to be exempted from the steel and aluminium tariffs imposed by the world's biggest economy.
"The US-imposed steel and aluminium tariffs will not affect us much but we contribute to 25% of total US solar panel imports," said Mustapa.
"We will commence negotiation on April 17. We hope with this consultation, part of that problem will be resolved as Malaysia is big in solar," he added.
Mustapa was answering a question by Othman Abdul (BN-Pendang).
On a related matter, Mustapa said China's 25% tariff against US imports announced yesterday was expected, and pointed to the possibility of other countries taking similar action.
But the inclusion of US soybeans in the list of 106 US products that will see a tariff hike in China does not automatically benefit palm oil, which serves an alternative to the crop, he added.
China, said Mustapa, currently consumes 12.1% or RM9.4 billion worth of Malaysian palm oil exports, whereas 5.9% or RM4.6 billion worth of palm oil products are exported to the US.
"We cannot expect palm oil product prices to increase due to the [25% tariff hike] to reduce US soybeans imported by China," he said.
"Our worry is that if a trade war commences, trade issues between these two largest world economies may spread to other countries and worsen the situation. The EU has also issued [a] statement that it may retaliate against the US.
"We hope this will not escalate into a trade war. Yesterday, the Chinese government said that they still want consultation. We hope the US will agree to it, the way they have agreed to negotiate with us [on solar panels]," he added.
Mustapa pointed to the introduction of Smoot-Hawley Tariff Act by the US in 1930, where the US introduced tariffs for 20,000 types of imports and resulted in a considerable strain to the international economic climate at the time.
The ministry, he added, takes the development seriously considering China is Malaysia's largest trading partner. and the US is its third largest.
On April 3, the US administration published a list of some 1,300 Chinese exports worth some US$50 billion that could be targeted for tariffs of 25%. The administration will hold a public hearing for US businesses on May 15.
A day later, the Chinese government provided a similar list of 106 US goods with matching trade value of US$50 billion and tariff hike of 25%, with effective date dependent on when the US action takes effect.