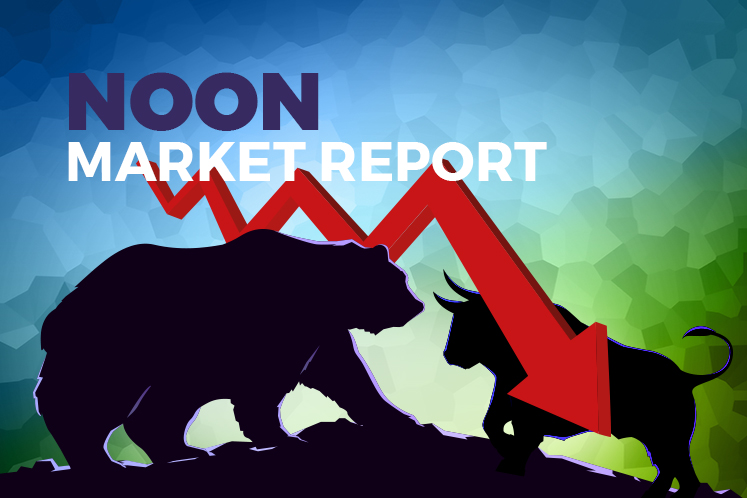 KUALA LUMPUR (June 12): The FBM KLCI held a 1.34% loss at noon market break today, after dipping 3.09% earlier following Wall Street's overnight fall as investors reassessed the impact of the Covid-19 outbreak on the economy. 
At 12.30pm, the benchmark index closed at 1,536.43 points, having gapped down to its intra-day low of 1,509.16 points at the opening bell, and on track for a second day of decline.
A bigger intra-day fall of 5.69% was seen at the FBM Small Cap Index, which also recouped some losses to 11,995 points, still down 1.83%.
Elsewhere, Asian shares also recouped some of their earlier losses. Japan's Nikkei 225 hovered 0.66% lower, Hong Kong's Hang Seng Index fell 1.3%, South Korea's Kospi fell 2.31% while Singapore's STI fell 1.48%.
In Malaysia, KLCI component stocks were among the biggest losers across Bursa Malaysia, comprising Nestle (M) Bhd (down 90 sen or 0.65% to RM138.70), Public Bank Bhd (down 44 sen or 2.55% to RM16.80), and Kuala Lumpur Kepong Bhd (down 30 sen or 1.33% to RM22.34).
Other top losers included Carlsberg Brewery (M) Bhd (down 42 sen or 1.71% to RM24.16), the Tradeplus NYSE FANG-2XL exchange-traded fund (down 38 sen or 6.81% to RM5.18), and Genting Plantations Bhd (down 36 sen or 3.53% to RM9.84). 
Gainers were crowded by structured warrants for S&P500 and the Hang Seng Index, with SP500-HJ — up 19 sen or 24.36% to 97 sen — leading the pack.
Top Glove Corp Bhd, which reported a record quarterly profit yesterday, rose 12 sen or 0.72% to RM16.84, while newly-included component stock KLCC Property Holdings Bhd too rose 6 sen or 0.75% to RM8.03. 
Other top gainers included Rubberex Corp M Bhd (up 11 sen or 3.63% to RM3.14), Imaspro Corp Bhd (up 11 sen or 5.21% to RM2.22) and Scented Bhd (up 11 sen or 1.26% to RM8.87). 
Yesterday, the S&P 500 fell 5.9% following similar losses in Europe as a spike in Covid-19 cases in the US spooked global investors.
MIDF Research, in a note today, downgraded its recommendation for the KLCI for a second time in recent months to 'sell' from 'hold', as it cut the benchmark index year-end target to 1,320 points, or down by over 13% from the current level. 
"At current levels, the market seems to impute a blue-sky scenario in regard to the post-lockdown economic recovery.
"But recent statements by the US Federal Reserve (Fed) as well as cue from China (already in post-lockdown) suggest that post-lockdown economic recovery may not be plain sailing," the research house said. 
Ringgit retreats as oil falls
Malaysia's prospects were also hit by oil's second day skid on concerns over weak economic outlook ahead, and subsequently weak demand.
At the time of writing, Brent crude oil spot price traded US$0.41 lower to US$38.14/bbl.
Subsequently, the Malaysian ringgit weakened today, depreciating by 0.37% to 4.2615 against the greenback after touching 4.2578/4.2853 earlier. 
The global sell-off follows Wall Street's abrupt fall on Thursday, after the bleak economic outlook by the US Fed. 
This was as the Fed said it will keep interest rates as low as possible through 2022, without going negative, to support post-coronavirus economic recovery. It currently stands at 0% to 0.25%. 
Covid-19 active cases in the US have rebounded over the past week from 1.11 million to 1.16 million. Worldwide, daily new cases continue to rise to above 130,000, with active cases at 3.33 million.